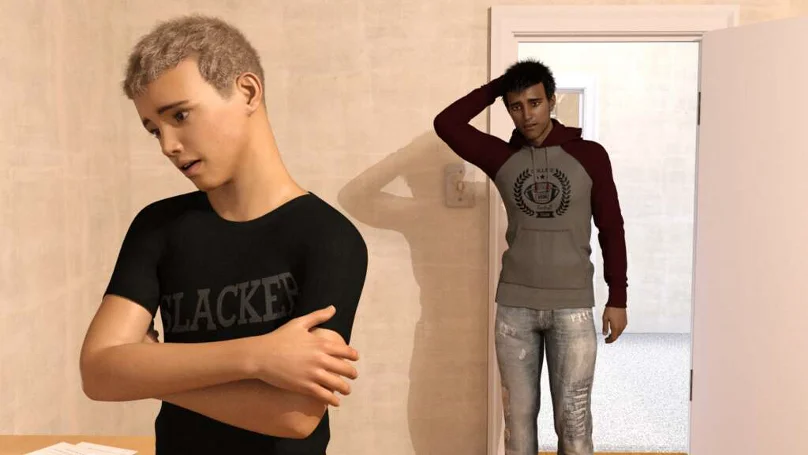 Straight!? Adult Game Download Overview
Straight!? is a work in progress visual novel that specifically focuses on mature gay themes. The story follows the main character, Zack, from his first day of college after meeting his new roommate, Braden.
In contrast to other games, this game relies heavily on dialogue and character development to tell the story of acceptance, friendship, and the existential journey as one comes of age. Frequent conversations and banter will give insight to the two main characters and move the story of their relationship forward. While there is sexual content, the story builds first–capitalizing on the teasing factor as we struggle along with the main character. Updates move the story forward episodically, simulating a serial novel as the story unfolds. This game is both heavy and thought provoking while having comedic moments. Game quality also increases as the game draws out. The dev had zero experience in the start and is learning with each update and addition to the team.
Game Information
About
Release Date: 2021-11-13
Developer: Aaryn Patreon – Discord – Twitter
Censored: No
Version: 0.07.2
OS: Windows, Linux, Mac
Language: English
Genre: 3DCG, Male Protagonist, Gay, Dating Sim, Romance, Corruption, Character Development, Slice of Life, Self Exploration, oral sex, anal sex, masturbation,
v0.07.2
-Spelling corrections
-Fixed incorrect image path from Chapter 3
v0.07.1
-Minor writing and sound changes
-Image and animation corrections
v0.07.0
-Typo fixes like usual– you'd think I'd actually get better at this but nope
-Added second half of Chapter 3
v0.06.4
-Moved some images in folders to reorganize
-Minor code clean-up
v0.06.3
-Fixed game breaking bug that jumped to the end from Chapter 2. Chapter 2 should now correctly lead to Chapter 3
v0.06.2
-Seriously can't leave the script alone. more super minor dialogue changes
v0.06.1
-Writing polishing
-Fixed wet hair image and pool sky
v0.06.0
-Spelling and grammer fixes
-Added first part of Chapter 3 with new sounds and music
-Corrected 2 images that caused Zack to teleport in his bed when turning his head to talk to Braden
-Changed the name of Chapter 3 to "Mikhail" rather than the original title of "Caught." Also changed the chapter quote for Chapter 3.
v0.05.1
-Spelling fixes
-Doctor coat image fixes
v0.05.0
-Corrected shower CGs where wall was mistakenly still present
-Finished Chapter 2, adding new music, sounds, and animations
-Corrected the stupid icon that somehow changed itself again and was killing Linux… ffs. IDK how you Linux folks do it
-Minor coding changes to eliminate over 200 lines by combaining things to make it more efficient
v0.04.2
-Typo fixes like always.
-The revamp will now work on Linux again. There's been a bug in it for several months that has not allowed it to boot in Linux systems. Apparently, the new revamp game icon was too big. That was it. A big icon killed Linux (it was really big tho, I promise). It's tiny now.
v0.04.1
-typo fixes
-few sound changes and additions
-Image corrections
v0.04.0
-Choice menus now have sounds associated with them for choices and hovering
-Fixed a few random CGs from the shower where the wall was appearing and disappearing
v0.03.3
-Minor writing change
-Added missing images
v0.03.2
-Sound edits and updated shower wall CGs
v0.03.1
– Updated CGs
– Few minor writing changes
v0.03
– Corrected several spelling and grammar errors
– Moved some pictures into isolated folders to help cut down on clutter
– Menu navigation now has sounds associated with it for clicking and mouseover
– Supporting the Project link will now redirect to linktree rather than just Patreon to give people more options to support
v0.02.2
– Corrected text line that incorrectly used Ernie's name before he told anyone what it was.
– Reduced dorm lightswitch size, hence forth known as Baby Switch (doo doo doo doo doo doo)
v0.02.1
– Added new music track without lyrics during heat fixing scene
-Adjusted shower delay sound during Day One
-Variable volume changes on some scenes
-A few writing changes that I considered polishing things a bit
v0.02.0
-Added Credit and music to the intro and Game Title screen after the Prelude
-Few image folder changes to help organize for future images. Some images were renamed
v0.01.4
-Few random writing changes
v0.01.3
-Added Title Screen and Chapter titles
v0.01.2
-Typo Fixes
-Redundant error of Main Menu music fixed by MadsPatterns. I fucking love you, man. Thank you sooo much for this. I was sooo stuck.
-Audio adjustments by Jordyn
-Increased text size by 2
-Added "To Be Continued…" screen
v0.01.1
-Writing edits
-Added sound to opening main menu
v0.01 (Demo)
-Major UI changes including removing unnecessary menu options
-Updated all fonts and colors
-Expanded Main Menu to be full screen
-Added Sound effects and Music (Volume can be adjusted in settings)
Change Log v0.21.4
-Corrected random typos
-Corrected a few CGs where poor Leafy was forgotten and broke more hearts than the fucking story did
Change Log v0.21.3
-Adjusted timing of fades in final chapter
-Picture corretions where Leafy was missing
-Guess what: fixed typos
Change Log v0.21.2
-Updated textbox with a new graphic to help account for some of the larger dialogues that ran outside the box
– Added prompt during the "Update" for selection of whether Braden told a story about his name or not during the cafe talks. This allows for extra conversation during a later scene in the dorm room
-Few more writing changes
-Epilogue screen updated due to coding problems
Change Log v0.21.1
-Added timing and fades to ending sequences
-Fixed crashes
-Corrected typos (I know… hard to believe at this point)
Change Log v0.21.0
– Added last half of Chapter 10 and ending. 671 new images and 4k lines of code
– Couple more typo fixes that I was lazy about before
– Moved a few image files around during the boot sequence to better organize them
-Added dedication page when starting a New Game from the beginning
-Added 2 new Thank You slides during startup. I spent 2 years writing these slides and regularly reviewed them a minimum of once per week. They're the most edited thing in the game because I'm eternally grateful and I wanted to spend adequate time. I could have easily spent 2 more years thinking how to say thank you better.
Change Log v0.20.5
-Typo fixes
-Fixed game breaking bug that forced the reader back to the main menu after finishing Chapter 9
Change Log v0.20.1 – v0.20.4
-Writing and image additions from rough draft at the dev level
-Updated Chapter Names and Chapter Quotes with new images
Change Log v0.20.0
-Typo and grammar fixes
-Rough draft of first half of Chapter 10 including 711 new CGs and over 4,300 lines of dialogue
Change Log v0.19.5
-Fixed mysterious missing CG from way back in Chapter 5 that disappeared for no reason
Change Log v0.19.4
-Typo and grammar fixes
Change Log v0.19.3
-Bug and proofreading fixes
-Image improvements
Change Log v0.19
-Redid visuals for the optional nighttime convo between Zack and Max to have a more blue hue rather than previous darkened appearance
-Renamed "Doctor" during the physical scene to "Dr. Hodges" because there really was no reason not to since she has a friggen name
-Finished and concluded narrative for Chapter 9. Around 3,500 lines of text and 500 new images
Change Log v0.18.1
-Fixed spelling errors
-Corrected the notrious flying cell phone in the coffee shop despite speculation that it was Braden's cell phone ascending into the heavens after being potentially lost in the dorm fire.
-Fixed a couple mislabeled dialogue lines from Max and Mikhail that were mistakenly misattributed
Change Log v0.18
-Began the first part of Chapter 9
-Did a quick fix on a CG during the convo with Zack and Mikhail walking where Zack bounced up and down and it was annoying af
-Dropped in a few random flashback scenes into the game to help make connections in conversations to which previous scenes they were specifically talking about. This doesn't change any of the story
– All chapters now have a different chapter title screen including a teasing quote. The quote appears somewhere within the chapter randomly
Change Log v0.17.2
-Lots of typo fixes
-Slight rearrange of dialogue in the final car scenes on the way to the beach to improve the conversational flow at the suggestion of a supporter
-Corrected a beach CG where Zack and Mikhail's shorts suddenly changed from trunks to their normal outfits during the beach intro conversations
-Made adjustments to the beach activity choices. There was a contuinity error here where, based on the order of your choice, certain objects appeared in game before they were retrieved. The order has been reworked while still allowing the player to choose which beach activity they want to do first
Change Log v0.17.1
-Image and typo fixes/enhancements
Change Log v0.17
-Massive story addition and completion of Chapter 8 as well as the conclusion of Part 3 of the story. Sorry about the cliffhanger… don't hate me
-All new images in this update are now rendered in 4K UHD quality and converted down to 1080p. This should result in enhanced image quality of all the new images added in this update ONLY. All future images will be rendered in 4K as well. This should also not affect the game size either. So those who previously were downloading the full edition as opposed to the crunched edition actually have better image quality now than they previously did with 6 gig file size.
-Modified dialogue choices in cafe in Day 1 conversation to prevent references to Zack being gay before he tells Braden he may like the D.
-Corrected spelling errors but probably still missed just as many
-Slight wording change in post-park conversation to clarify "first kisses." For those confused, the park kiss was Zack's first kiss and Braden's first kiss with a dude.
Change Log v0.16.2
-Corrected some hair glitches and odd reflections in a few CGs
-And guess what: More Typos!!
Change Log v0.16.1
-Corrected typos
-Converted all .PNG files to .JPG now, reducing overall file size from 6gig down to 1.2gig.
Change Log v0.16
-Updated splash screen with pics created by Jordyn to replace the previous text warnings that were frequently missed (ex: not to use old saves, and a new warning about the game being a work-in-progress to hopefully curb some of the judgemental criticsm about the earlier parts of the game that have yet to be refined)
-Update font color changed in the chapter select to draw more attention to the Update feature there
-Began the first half of Chapter 8.
Change Log v0.15.1
-Change a time reference during the Mikhail/Zack talk at the end of Chapter 7 to reflect the appropriate day referenced.
-Correcting color on "straight" text that was overlooked
-Fixed typos and learned grammer that I didn't apparently figure out in grad school
Change Log v0.15
-Finished Chapter 7: Deeper
-Fixed "Embarrassing Story" text color
-Braden bent over CG (you know what one I'm talking about) was redone to make his starfish less frightening
-finished the CG reduction on the dorm room folder, reducing overall game file size by another 240MB (not huge but it helps)
Change Log v0.14
-Continued the plot line of Chapter 7: Deeper with 5 new environments and over 200 new pics that expand the world our further than we've gone before.
-New custom made adult warning screen that's light years ahead of my google image from before (Thanks Jordyn!)
-New custom made main menu screen with movie that beyond kicks ass! Like, this shit almost brought me to tears the first time I saw it. All praise goes to Lazy-Jake!
-Corrected some CGs that still had fireflies in them from v0.13 (Thanks to supporter lex0 who did this for me)
-Prophetically, there was a great battle over the game name given that it had somehow appeared two different ways "?!" vs "!?" over the past year. It's now "!?" so Blayke will stfu.
– Dinner Conversations are now denoted with orange text so you can tell the difference between them and normal conversation choices cause they special.
-Added an obscure literary addition that I've wanted to for a long time. Based on the name of the game, the word "straight" will always appear in red text throughout the entire story. It's an idea I got from one of my fav books.
-Began optimizing image files in the game to reduce file size by 15%. Thus far, overall game size was reduced by 500mg in the standard edition.
Change Log v0.13.1
-Reduced Chapter 7 introduction during the black screen and lowered Zack's anxiety level based on feedback
-Fixed typos (mostly just me misspelling "embarrassing" again cause I'm fucking retarded
-Fixed bug from the bar scene with a missing CG based on a conditional statement from the "girlfriend" cafe talk
Change Log v0.13
-Known bugs: You may experience flashes and lighting changes. This is due to my using a combination of old and new CGs in the same updates. This has always been the case but the lighting in the recent updates is better. Once the game is complete, all CGs will be redone to ensure they all match with lighting. I still have much to learn before then.
-Game now has a taskbar icon after a fucking year! Yay!
-Also changed the in-game textbox to make it a bit smaller. Font was adjusted smaller to compensate for the change. Hopefully this will make the textbook less distracting so you can see more of the art (and all it's flaws!)
-Few random spelling changes as always
-Started Part 3, beginning with Chapter 7
Download Straight!? Porn Game
Keywords: Adult Visual Novel, Best Gay Adult Porn Game, Male Protagonist Anal Sex Games, Android Fuck Games Free Download, PC Sex Game