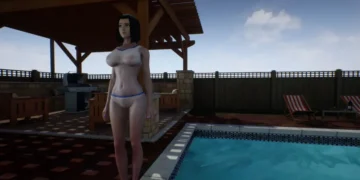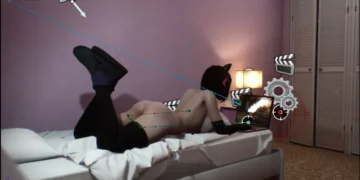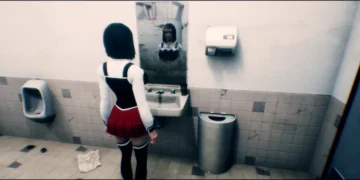 Silicon Lust Adult Game Download Overview
A game from the famous creator of the WhoreCraft game series – Auril.
This is an erotic game about a girl who stayed home alone while her parents went on vacation. She is looking for classes to her taste.
Game Information
About
Release Date: 2023-09-25
Developer: Auril3D Patreon – Website – SubscribeStar
Censored: No
Version: 0.31b
OS: Windows
Language: English
Genre: Female Protagonist, 3d game, masturbation, exhibitionism,
v0.31b
Added one new scene
Added DLSS 3 with Frame Generation (frame generation is available for RTX4000-series only)
Many changes in the level design (added some places that we will visit in the future)
Many changes in the level logic in preparation for making the game less linear and seeing content based on player choices, instead of experiencing everything in a single walkthrough. (May cause old saves to stop working)
Jill's face improved slightly
Changes in the light system
Added Hardware Ray Traycing option
v0.3b
N/A
v0.27b
In addition to being troubled by nosy neighbours, sex ravenous rabbits, butch police officers and vivid nightmares, Kira's neighbourhood on Elk Street has now also been reported as the new hotspot for UFO sightings.
– Added two new scenes (Friday (day) and Thursday (night)) (details at the end of this text)
– Visual changes to levels: new grass, reflections on translucent surfaces, lighting
– Visual changes to characters: new eyes, new boob physics, new dick model (seen in one of the new scenes)
– Fixed multiple visual bugs, added new animations during dialogues
– Known bugs: some scenes have double sound; rain can continue after first night, and requires a save and load to stop.
Game comes with a save file included in the archive. How to use:
1. Find the file in "gamefolder/SaveGames/" (Gamefolder = here you unrar'ed the game)
2. Write in the folder navigation panel "%localappdata%\OST_Game\Saved\SaveGames" put Save10.sav there.
3. Start game and load slot 10
SPOILER: New scene 1: Kira returns home from Albert's house after the file recovery operation. Find's Justin's hat. Returns it to the trailer.
New scene 2: Kira wakes up on Thursday night to a phone call. After hanging up, she exits the backyard door instead of going back to bed. (Both scenes can be run from game gallery if you use savefile
v0.20b
– Game can now be saved by interacting with the Walkman (cassette player) on Kira's desk. Saves can be loaded from the menu anytime. Please report any bugs encountered when using the save feature. Thanks to Horsen for the assistance.
– Jiggle physics have been added for boobs and butts for all the female characters in all scenes.
– Game has been cut to multiple levels to improve performance.
– DLSS is on by default, it's a technology that boosts fps by upscaling lower-resolution images to a higher resolution using deep learning. Requires RTX 2000 or 3000 series GPU.
– Added RTX Global Illumination (in addition to RTX Shadows and Reflections already in game.)(Shadows are now on by default if running the game on DX12, so the option is gone from the menu.)
– Groom hair system and tools enables the rendering of each individual strand of hair, which significantly improves visual fidelity of simulated hair in real time. And causes the hair to not glitch out when interacting with phallic object.
– Few changes to dialogue and added a transfer segment between Alice spotting Kira and the second school dream (go interact with Kira's bed).
v0.18b
In this update, Kira wakes up from restless sleep on a Friday the 13th. She wants to review the night's footage with Justin and finds out Jill has already made herself at home on Elk Street.
– Added two new scenes on Thursday – Friday
– Added support for ray tracing shadows, reflection and refraction (still in beta) (found in options menu)
– Many little changes on levels, fixed some bugs
v0.15b
– Minotaur Slave-scene completed
– Added two new scenes on Thursday (the most recent day)
– Added Chinese language option
– Multiple bugs fixed, thanks for reporting
v0.14b
Patch notes: In this update we'll get to share Kira's experience in the enhanced VR gaming scene, meet Justin's most loyal friend, and get a taste of our own medicine from the neighbours.
– Justin's dog's model updated. The black, red eyed dog model was ditched due to it lacking features for animation.
– Added scene from "Minotaur Slave" the VR game. (Oculus not needed)
– Added scene featuring nosy neighbours
– Blackout segment should not be so overwhelmingly dark anymore
– Added UI for Kira's phone
– Small changes multiple previous animations.
v0.13
– Added two new scenes
– Updated school map
– Added missing sounds
– Fixes to model illumination in dark areas
v0.12
Patch notes: In this update, we conclude Kira's visit to her neighbors.
Thanks to Kira's newly acquired skills with the video camera, we can now re-watch all her scenes in the gallery found on her computer. Additionally, there are improvements to the shower scene and fixes to camera focus and lighting to multiple scenes. French localisation is also updated.
v0.11b
– Update is continuing on the Justin path of the Day 3 choice.
– Lighting changed for better visibility in scenes, looking for feedback if the "light on cam" is still needed
– Volumetric clouds added
– Fixed the last of animations broken by the changes in the male model
– One extended scene added – Scene can be replayed by pressing Z.
v0.09
– Added interior to Justin's trailer
– Upgraded Justin's and Albert's bodies to more beefier ones
– Added new set of clothes for Kira
– "No" option is now available for Alice's invitation on the morning of day 3.
v0.08
Last time on Elk Street the busty nymphomaniac next door finally caught Kira spying on the forbidden pleasures between her and her brother. After the incident, Kira went to bed with a deep blush on her face, vowing never to indulge in voyeurism again, or at least to be more stealthy about it. Next noon, she is filled with dread as she is awakened by the doorbell.
– Added day three. It is triggered by observing the neighbours with the video camera.
– Added proper interior to the house next door.
– IMPORTANT: On day three Kira is supposed to wake up to the doorbell, but the sound is missing. First objective is to answer the door.
– On day three there is a choice – Pick "Yes" as the "No" alternative is not yet implemented.
Stay tuned for a little surprise coming before Christmas.
v0.07
In this update Kira braves the attic, but will she find answers among the forgotten junk? Meanwhile the neighbours' family feud takes an even stranger turn.
– Added peeking the neighbours scene on the morning
– Attic is accessible after the bunny-window scene
– Added interactable items on the attic, some with associated animations (neighbours, pool, cam)
v0.04
– Kira vs. uninvited guests
– Peeking on the nerd continued
– VR gaming
Sex sounds are missing, will be added for the next update.
v0.03b:
– Added new day and night lighting settings
– Men's room scene has been enlarged
– Kira receives a second delivery
– Another visit from a nosy neighbour
– Things get frisky after dark in the house next door
– More strange events around the house
v0.02:
N/A
v0.1
Initial release
Download Silicon Lust Porn Game