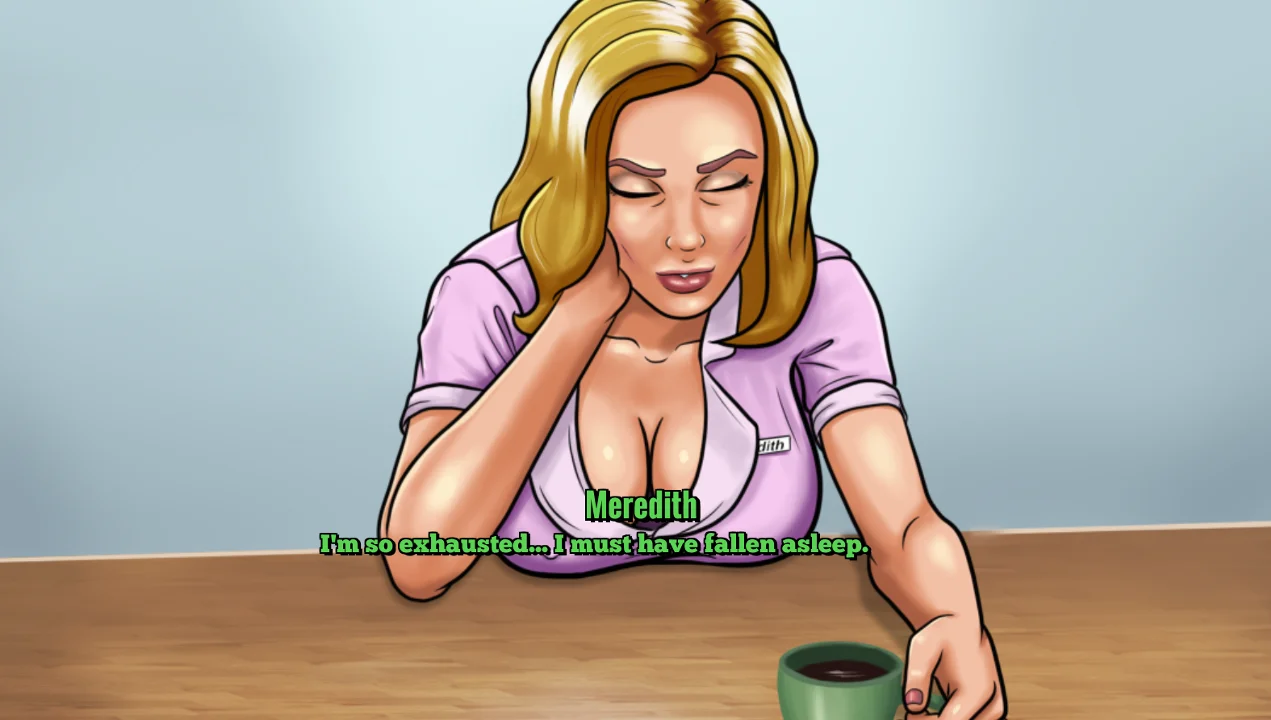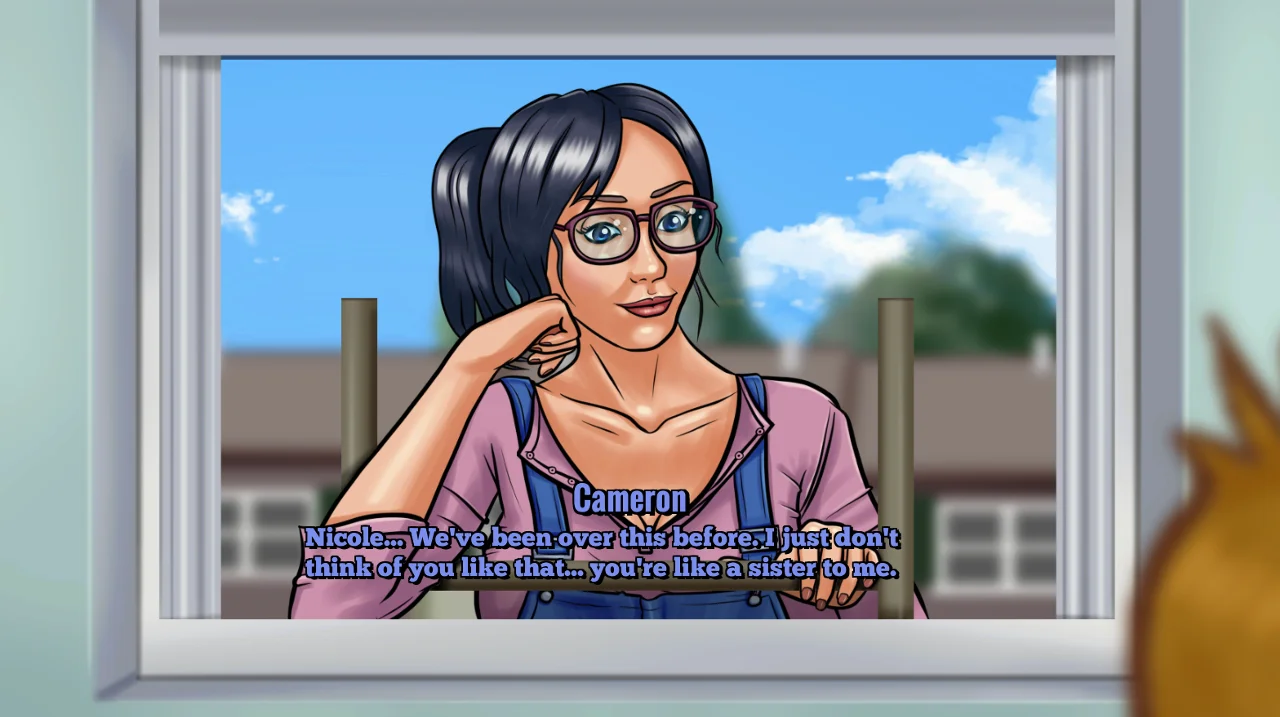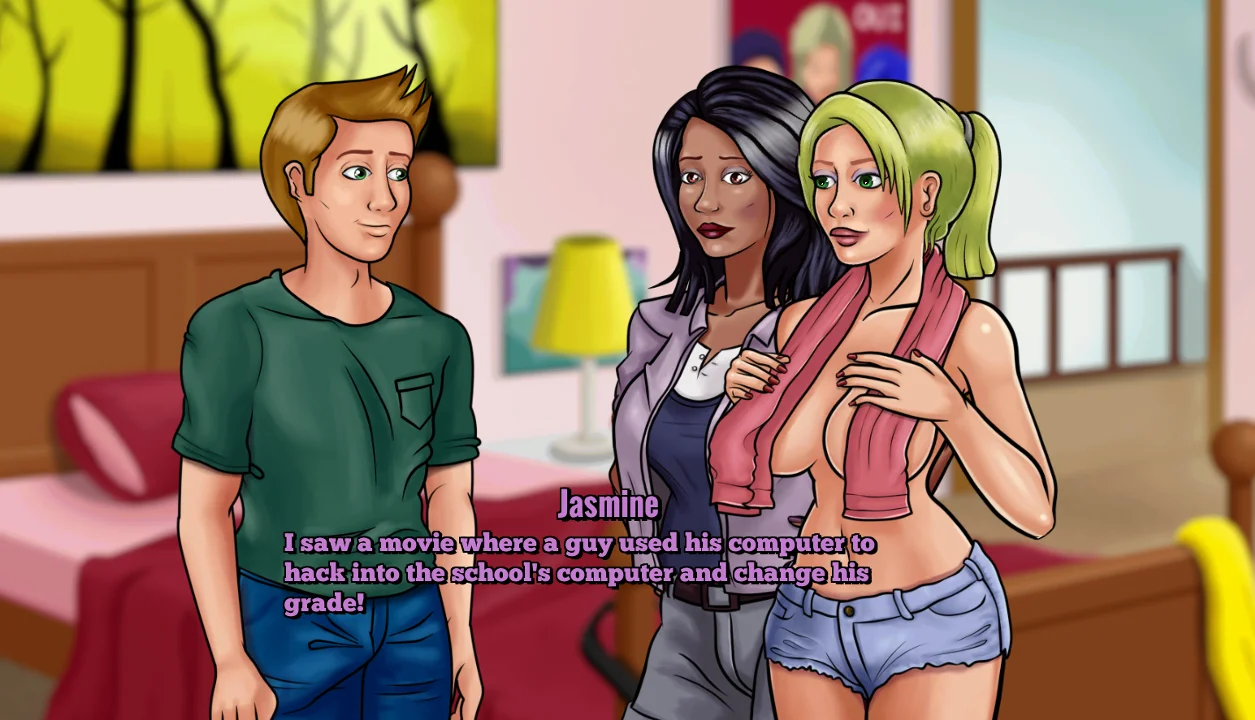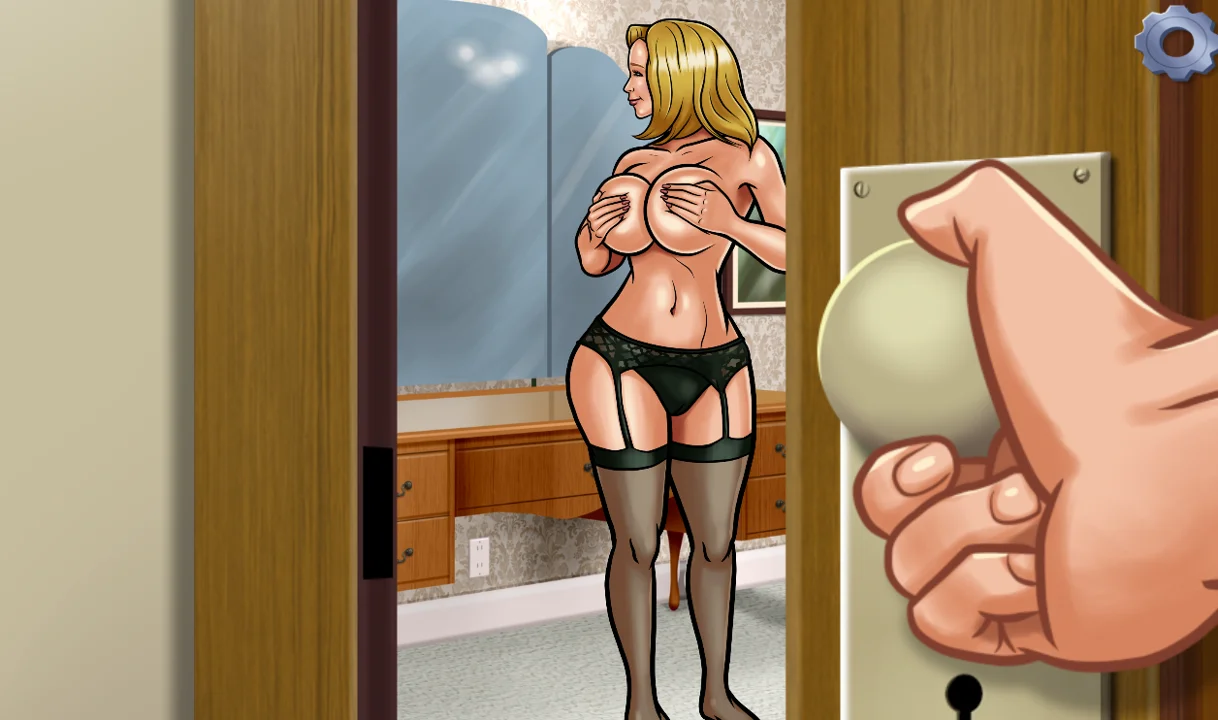 Five of a Kind Adult Game Download Overview
You play a frustrated, young computer and video game enthusiast living at home with your overextended and stressed mother, Meredith, and your self-centered and aloof sister, Brooke.
Nominally, you and your two friends: ever-scheming, wannabe ladies' man Scott; and hyperkinetic savant Nicole, set out to uncover the mysterious disappearance of the mercurial Dr. Joystick; however, you find the seemingly more mundane situations in your own home to be more rewarding.​
Game Information
About
Release Date: 2023-05-16
Developer: JorogrArt Subscribestar – Itch.io – Twitter
Censored: No
Version: 0.3.6.1
OS: Windows, Mac
Language: English
Genre: 2D game, 2DCG, Animated, Adventure, Big ass, Big tits, Creampie, Groping, Handjob, Incest, Internal View, Male protagonist, Masturbation, MILF, Oral Sex, Paranormal, Point & click, Sandbox, Teasing, TitFuck, Vaginal Sex, Voyeurism
v0.3.6.1
Content
Advancement of Charlotte's story, although not finishing it. This amounts to two new quests (Northern Hospitality & Games People Play) and continuing the existing Fish and Visitors quest.
Upgraded Aunt Charlotte's portrait rig to support multiple outfits and give a proper idle animation (with jiggle physics)
The Strip Poker game on MC's computer will now be playable. This is a partially a piece of old timey, low rez flair, but will have a plot point later in the story.
Closeups are now available for sitting at the Dining Table and inspecting the Kitchen Counter (To Do List)
Gameplay Improvements
Spank Bank UI scrolling will scroll to separate pages, not just shift the scenes by a couple of spaces (to avoid confusion).
Unlocked Spank Bank (gallery) scene thumbnails (polaroids) will have printed text underneath them telling you what they are (e.g., "Mom Kissing Scene", "Sis Computer Dream", "Irene Blowjob", etc.)
Spank Bank Bonus scenes thumbnails (polaroids) will have a blue "Bonus" ribbon, making them stand out from regular scenes.
Launching Bonus scenes from the Spank Bank will give a brief text explaining how bonus scenes work.
Moved Reset button to the left side of the UI to prevent accidentally clicking it.
Launching either of Brooke's dreams or the Meredith 3D scene from the Spank Bank will prompt you to continue so as to not force you to watch the entire thing if you clicked on them by accident.
Meredith will have improved vocalisations (SFX/foley) in a few scenes (Haircutting Scene, Shower Scene, Tit Job Scene, Kissing Scene, & Bonus Sex Scene)
Updated the Dining Room background to add rear mattes and more detail.
The Magic Wand (debug/cheat tool) will now be found as a hidden hotspot on the inventory menu itself instead of the hidden hotspot in MC's bedroom.
Bug Fixes
MC's bedroom door will no longer animate to open. It will have two states: open and closed just like the front door.
Reduce the volume of Scott's theme and Diner Theme so it's not so loud compared to other music.
Remove Cum action from Meredith & Brooke sleeping poses where the action is only there to scold the player.
Version label in title screen will no longer be hidden when showing the Spank Bank and Credits menus.
Meredith will no longer say "It's not Christmas" when you hand her the christmas lights and carrying the gem.
Nicole War Dialer dialogue option won't be available after you start the War Dialer.
Using Meredith's panties will now make you wait a day before doing it again…
It will no longer be possible to take a crap while Meredith is showering.
Flushing the toilet while Meredith is showering will give a Sierra-style death.
Changed all references of VectorMan and Ms. VectorMan to Movie Tie-In: The Game and Super Panty Raid, respectively (I had no idea VectorMan was a real property. Oops!)
Jorogr Avatar (the middle age guy in Pro Tips) eye color has been corrected to green (was brown before).
v0.3.5.2
Notes
This update is an emergency hotfix to address a serious issue that was found where certain cut scenes (all in Meredith's story) would not fire if you never open her Contact Page.
Since the stuff I've been working on for 3.6 is not ready for prime time and time is of the essence, this release will only fix this bug and a few others that are low risk.
Bug Fixes
Fixed a bug where certain events (all in Meredith's story) would not calculate the current reputation score with her before checking that her reputation is above a certain value.
The explicit sound effects in all BJ scenes are now mapped to the SFX volume slider so you will not hear them if you have the volume set to 0.
Clicking the Glass of Chardonnay on Aunt Irene now gives an appropriate response.
v0.3.5.1
Notes
This update primarily includes bug fixes to v0.3.5, along with a few gameplay improvements I was working on. Among the bug fixes are two longstanding game-breaking, and difficult-to-reproduce bugs that could put the game in an unwinnable state.
Gameplay Improvements
The Contacts page in the Quest Journal will now have "tabs" for each character so you can jump to the character you want to work on without having to click next or previous multiple times to scroll through the characters.
The game will now keep track of the highest level of Dirty Talk you've unlocked through gameplay and use it when playing Spank Bank scenes from the main menu (for scenes that actually have Dirty Talk implemented).
Resetting the Spank Bank also will reset Highest Dirty Talk Level Unlocked setting to None.
Using the Title Screen Cheat Hotspot 5x will set Highest Dirty Talk Level Unlocked to Max (currently Level 2).
Meredith's Fan Service time slot in the Afternoon (Sleeping, Trying on Lingerie, or Using Vibrator) will now predictably cycle through the available options instead of being randomized each day.
Bug Fixes
Fixed a longstanding and nasty bug where it was possible to get a Quest Accepted or Quest Completed banner stuck on the screen forever with no way to get rid of it other than starting over.
Opening the Pause menu while either the Inventory or Journal menus are open and then selecting Resume will restore the HUD icons in the upper left. This bug is particularly nasty because it could potentially put your game in an unwinnable state, depending on which screen you're on (e.g., Irene's house).
Using the trunk at the foot of MC's bed after finishing the Meredith shower quest or when you already have the shorts now gives a proper "you did this already" message rather than giving you another pair of gym shorts. If you load a save game where you've completed the shower quest and have an extra pair of gym shorts from this bug, they will be automatically removed.
Using the zipper in the Upstairs Bathroom now causes MC to drop his pants, giving different results if he is alone, Brooke is showering, or Meredith is showering.
Slightly reduced font size in death popup to prevent the menu text from overlapping the buttons in Ultrawide (21:9) rez.
Added black bars to Kissing Scene on Ultrawide.
Cash register sound effect no longer is interrupted with quest progress sound when getting the cash from Irene.
Meredith no longer shows up randomly in the back yard.
Brooke's bedroom will have the lights on at all hours so that Brooke and Jasmine won't be sitting in the dark at Night after Charlotte accosts Brooke for her music.
Outdoor mattes outside Brooke's bedroom window will now correctly show winter versions of the tree and houses across the street if holding the Winter Gem.
Haircutting scissors no longer show up as valid option during Meredith BJ Scene.
Asking Meredith what's on TV when Charlotte has taken control of the TV will now give an appropriate message.
Main Menu and Exit Game confirmation dialogs now pause the game.
Bringing up the Pause menu while the Inventory or Journal menus are open will close them.
Using the Summon Nicole button while already talking to Nicole no longer repeats the camera zoom and gives an appropriate "You're already doing that" message.
v0.3.5
Notes
This update advances Meredith's story in two separate, but admittedly brief lanes. 1) There is a bonus quest to convince Meredith to let you join her in the shower for some fun, which provides most of the erotic value in this update. 2) The first quest and cut scenes to establish Aunt Charlotte as an emerging obstacle (pain-in-the-ass)
This is Part 1 of the Aunt Charlotte arc and the available content just helps establish her character. There are no sex scenes (yet) with her and and the available story in this update is a bit brief, but offers important "table setting" for the next update.
There is nothing in this update that should break saves from previous versions.
I had to cut an important Aunt Charlotte set piece in order to get the update out, but hopefully the two new animated scenes will provide enough erotic value.
New Content
Soon after the mortgage is paid off, Meredith will be working less overtime and can be found showering around noon (Midday).
New Meredith Spank Bank Scene: Standing Shower Groping, & Thigh Job
The first quest and cut scenes of Aunt Charlotte's mini story.
New Location: Sloppy Seconds Diner (interior only, not much NPCs or activity in there yet)
Minor Scene: MC jerking off in Meredith's bed with her panties will now be depicted graphically instead of simply stated in a wall of text.
Gameplay Improvements
Meredith's assigned "Fan Service" time slot (Afternoon) will behave more like Brooke's where what she's doing will be random each day and will select among the Perks you've unlocked. This is being done mostly because that Afternoon timeslot is currently overloaded and to allow for future expansion.
Asking Meredith for repeating any of the Spank Bank scenes from the Kitchen will automatically cut to either MC's or Meredith's Bedroom rather than making you walk up there on your own to activate the event.
All indoor and outdoor locations have been tweaked to either show black bars on the sides or hide embarrassing stuff that was previously visible at the edges in ultra wide resolution.
Aunt Charlotte's journal page has moved to just after Brooke's page.
The Winter/Christmas Gem Use action in the inventory will no longer cause the Gem to disappear. Now you get a choice and if you want to get rid of it, there's a specific option to destroy it, which is of course the return to non-Christmas option. You can always get another Gem from Dzherkov in the arcade.
Using the Unzip (Summon Nicole) action in the upstairs bathroom and shower closeup now has more dynamic responses and uses than the default "I've had the best success summoning Nicole in my bedroom." response.
Milestone list now scrolls by a full page at a time instead of by five items at a time. With a full game, your Milestone list can be REALLY long.
Rewatching the Meredith vibrator scene will now prompt you if you want to watch the whole scene, so that you don't get locked into repeating the whole thing from simply peeking through the keyhole.
v0.3.2.2
Notes
This update primarily fixes bugs that were found in v0.3.2.1. There is no new content that wasn't in v0.3.2.1.
If you play this update after Jan. 14th, you have NOT missed the Christmas Event. Just go to the Arcade and talk to Dzherkov, the Fortune Teller, (after getting a quarter from the Ace of Swords video game) and ask him about wishes and select "I wish it where Christmas!" He will give you a Winter Gem. While that's in your inventory, the game will behave as if it were Christmas. Use the gem in your inventory to make it disappear or hand it back to Dzherkov to revert the "season" back to normal.
The Christmas/Winter window has been extended to include the entire month of December and through January 14th.
Bug Fixes
Removed 16:9 Fixed Aspect Ratio to address two issues 1) Red Exit button during closeups being hidden behind black bars on certain resolutions (such as 1280×1024) if they were on the bottom, 2) squished graphics when playing on certain resolutions (ultra wide).
Clicking on Meredith's chest in the Kitchen closeup while having the Mother of All Bombs Perk will now work properly if she's wearing the Santa outfit. Also tweaked the dialogue to make it less cringey/more believable.
Saving and Loading in Meredith's closeup in the Kitchen no longer shows the wrong outfit upon load.
The Meredith hugging animations in the Kitchen no longer switch to her green sweater if she was wearing the Santa outfit.
MC will no longer say "Whoa!" if you crack open Meredith's bedroom door and she's not visible.
Fixed a longstanding bug where Scott would sometimes not be visible outside the Arcade when he's supposed to be.
Fixed a bug where loading a save game that was made outside the arcade inconsistently showed or hid Scott when he was or was not supposed to be there.
Tweaked the path the football takes outside Aunt Irene's house to be more smooth and not have its final position hiding behind the porch overhand, possibly confusing players.
Meredith Grandfather Clock scene will use the Santa outfit if it's active.
Removed a leftover reference to "Demerits" from the Grandfather Clock scene.
Fixed a typo in Meredith's diary Esmerelda -> Esmeralda.
Aunt Irene's Head Hotspot will accept the Tangled Christmas Lights item to be consistent with her general and chest hotspots.
Brooke's "What should I get Mom for Christmas?" dialogue option will be available if it's December OR you have the Winter Gem in your inventory from Dzherkov.
When using the Tangled Christmas Lights on Brooke while holding the Winter Gem but not being December will give the correct response rather than "It's not Christmas time!"
Living Room Christmas Decorations will no longer show when they're not supposed to.
Changing songs on MC's new Stereo System now starts the song from the beginning.
v0.3.2.1
Notes
This is a short, seasonal update for Christmas 2022. It will contain a couple of new Christmas-themed quests with some minor, unlockable erotic content. (Yeah, I know a day or two late. My apologies.)
This update will NOT require restarting. Your saved games should work if they were created with any update AFTER v0.2.3.
Due to the contracted development time, there will NOT be any new Spank Bank scenes in this update. There is one new solo scene with Meredith, but it doesn't rise to the level of a Spank Bank scene.
If you somehow have v0.3.2 (and not v0.3.2.1), get this version as it hotfixes a game-breaking bug where Meredith's "Good Vibrations" scene won't fire under certain circumstances.
Winter Event
The game will detect the time/date from the current computer and set a variable in the game for certain "holidays." Christmas will be assigned if the current month is December upon either a) starting a new game, b) loading from a save game.
The Fortune Teller at the arcade supports an "I wish it were Christmas" option from his dialogue tree. If you accept his proposition, he will give you a "Christmas Gem", which will force the game to act as if it were Christmas while it is in your inventory, ignoring the system date/time. This of course gives players a way to activate the Winter Event if they discover the update on Jan. 1, for example.
Snowfall visible in all outdoor locations and visible through window in indoor locations.
A couple of new Christmas-themed quests.
A new outfit for Meredith. (She will only wear it in certain locations)
Gameplay Improvements/Features
Aspect ratio will now be fixed to 16:9, putting black bars on the sides when necessary.
Increased Meredith's walking speed.
Bug Fixes
Fixed a bug where Meredith's Good Vibrations Perk wouldn't activate if you had finished the Blowjob scene.
Fixed a nasty bug where the Scroll Up/Scroll Down arrows in the Inventory Box wouldn't scroll, limiting you to only being able to view the first 20 items you had.
Rename "Demerits" to "Offenses." Some people have complained that this term has negative connotations.
Fixed a nasty bug where you could be locked out of traveling anywhere from Aunt Irene's house. The map would be grayed out and say "You must be outdoors."
Fixed several misattributed lines when Dirty Talking with Lucy where her lines are mistakenly spoken by MC.
Fixed a bug where Living Room Christmas Tree hotspot wasn't activating.
Fixed a bug where Meredith's solo "Good Vibrations" scene wasn't switching to the faster animation when it got to the intense part.
v0.3.1.2
Notes:
This hotfix mainly addresses a pair of game-breaking bugs from v0.3.1.1, but also a few other minor things. There is no new content.
Bug Fixes:
Fixed a bug where using Open Map, Teleport to MC Bedroom, or Fast Sleep actions while viewing certain closeups could freeze MC, making him not able to move.
Fixed the long-reported, but newly understood forever hourglass bug when rapidly taking wine from the dining room cabinet. (Thanks to @Sapphiree for the "key" to duplicate this issue)
Using the Rest button in the Kitchen and in Brooke's room now gives a "You can't rest here" message instead of doing nothing.
Fixed Meredith's hand overlapping MC's thigh in the BJ scene (graphical issue)
Fixed several issues with Dirty Talk during Meredith's POV BJ scene.
Fixed several typos.
v0.3.1.1

Notes
This update does not advance the story in a meaningful way and is primarily focused on making the existing game and content more appealing to players newly discovering the game.
There is one new Spank Bank scene in this version.
The Meredith Handjob rework was cut from this version because it's not quite ready.
New Content
Finishing Brooke's current route gives a "Bonus" scene, similar to the one with Meredith.
Reworked the Meredith BJ scene (fixed graphics, synced sound effects, different scenarios for repeat viewing)
2x rooms added to house (Downstairs Hallway behind couch & Guest Bedroom)
Aunt Charlotte can be found in the Guest Bedroom after she arrives and she has a basic dialogue tree to talk to her, but little else. You can spy on her in her room for a Demerit, if you like.
Some select closeup scenes in places to "zoom in" on important romantic and/or erotic moments (no spoilers)
Bonus Fun Stuff
It is now possible to unlock 2x levels of Dirty Talk Skill through natural gameplay. Dirty Talk is an enhancement that can be used in some Spank Bank scenes.
We can now talk to the Phone Sex operator (instead of Under Construction Banner)
The Erotic Fiction bulletin board in CommPost (very minor mechanic) has been completed
It is now possible to give Lucy an orgasm during her "Cowgirl" scene.
Gameplay/Engine Improvements
Added ability to customize Mom/Sis names.
Fast Travel & Fast Sleep options can be unlocked (Telport to MC bedroom, Open Game Map from MC Bedroom, Fast sleep, all available from HUD)
Rest, Map, and Teleport to MC Room icons now gray out if they are not usable in the scene/situation you're currently in. Clicking on them while grayed out will usually give you some text telling you WHY you can't use that function at that time.
Added Toggle for Pregnancy On/Off (defaults to ON)
Added Toggle for Authentic 80's Bush (pubic hair) (defaults to OFF, currently affects Brooke's 2nd dream, Meredith bonus scene and Brooke bonus scene)
Added Toggle to switch Spank Bank theme music or turn it off entirely.
Spank Bank scenes that let the mouse cursor pan the camera will no longer stop panning if a character is speaking.
If you lose either of the bonus scenes (either through resetting or getting a saved game from someone), you can now re-unlock the scene by clicking a new VHS icon on Brooke or Meredith to get the scene back, assuming you've unlocked all the prerequisites.
Refactored several characters' dialogue trees to summarize long-winded scripts when clicking them a second time (to avoid clicking through 20+ lines of useless crap)
Doors that have Peek Through Keyhole and/or Crack Door actions will now have icons on the hotspot instead of popping up a menu.
New Game Menu (I'm new here/I played previous update/Take me to the game, Coach!) has a fourth menu option: "If you could just unlock all the scenes and take me back to the main menu, that'd be greeeeeeaaaaaaaaat, kthxbye"
Resetting Spank Bank will now ask Are You Sure?
Using MC's bed will now path him to whichever side of the bed is closest to where he's currently at.
Characters with very little content (Jasmine, Aunt Charlotte) will say so in their quest journal page.
You can use use the remote to flip through the TV channels during the couch closeup.
Visual/UI Improvements
Brooke now has a basic set of emotes when she speaks (similar to Lucy and Andrea)
Reskinned Dialogue Tree and speaking UI to look more "modern"
Many closeup scenes now use post processing effects to slightly blur and/or desaturate the background matte behind characters
Drunk effect at Irene's house no longer relies on Unity Animator and increases gradually to indicate level of inebriation.
v03.0.2
Notes
This update is mostly minor bug fixes and a couple of minor improvements. If you've finished v0.3.0.1 or v0.3.0.0, it is not worth replaying.
This hotfix will NOT break save games from v0.3.0.0 or v0.3.0.1. However, saves from v0.2.x or before will not work because v0.3.x rewrote Meredith's story.
Improvements
Spank Bank now fits all 12 scenes on a single page–no need to scroll
Brooke's schedule has been modified so that Jasmine is available in the Afternoon and Evening. All of the fan service options (Brooke showering, Brooke on the phone, and Brooke changing) have been isolated to Night time slot.
Improved Brooke's journal hints
Bug Fixes
Tweaked the delays in animations when taking wine from the dining room cabinet to (hopefully) eliminate the forever hourglass bug
Aunt Irene's general hotspot now accepts the Chablis and Zinfandel. (Before, you had to click on her head or chest)
Fixed a couple of misattributed lines when selling stuff to Scott and during Brooke's grade fix quest.
Cracking the door to Meredith's room no longer has MC remarking "Whoa!" if she's not there.
Removed an unfinished "pillow fight" placeholder graphic
Shortened the amount of time Scott spends trying (and failing) to play the guitar.
v03.0.1
Notes
This hotfix will NOT break save games from v0.3.0.0. However, saves from v0.2.x (Brooke's update) or before will have problems because Meredith's story was rewritten starting with v0.3.
This update is mostly bug fixes and minor improvements.
If you've finished v0.3.0.0 and are wondering if it's worth replaying, that depends on whether you want to see Aunt Irene take a facial or not.
Improvements
Added ability to double click on Exit hotspots to have MC teleport over there (skipping the walking part).
Improved the hints in Meredith's journal.
Improved the hints in Aunt Irene's journal.
Bug Fixes
The following actions will no longer be allowed while leading Scott around the house: rest, clean fish tank, pick up cereal bowl, sit on couch, access fuse box, talk to Mom on couch.
Using the Talk To action on Aunt Irene after drinking Rosé no longer does nothing. She's supposed to talk your ear off with endless, meandering stories.
To alleviate the difficulty players have had with all the different wine options: 1) the glass of Chardonnay will give a message when trying to use it on Aunt Irene 2) the spoiled bottle of wine in the kitchen will tell MC there's Chardonnay in the fridge and that there are unopened bottles of wine locked away in the china cabinet, 3) Use icon & talk icons on the lower drawers to the cabinet will have MC remark about a key "Around here somewhere."
Fixed Aunt Irene's sex scene not letting you do anything except exit & remove Under Construction banner.
Moved Aunt Irene's house in the map in further away from the edge to avoid screwing those playing on 3:2 aspect ratio (1280×1024). In the future, I'm going to look at locking in the aspect ratio to 16:9, meaning black bars on the side or top for playing in different aspect ratios.
Fix a bug where Meredith can be seen simultaneously changing and sleeping during the Afternoon when using the spying options.
Fix a bug where the "Peek during handjob" perk was mislabeled as "Mom's Open Door Policy" in the Perks tab in the journal.
Meredith initial conversation after cleaning your room Tidying Up option no longer removes that option from the dialogue.
Remove reference to Caydence (MC's time traveling daughter from the future) during Titjob scene.
Fix a bug where cycling through the TV shows gets stuck on the cop show the second time through (game-breaking bug)
Somehow the Meredith sitting "rig" that makes up her sitting on your trunk after the cleanup quest and her "bonus" scene got set to Medium Quality. I've bumped it back up to High Quality.
Leaving Lucy's dialogue via her floating boobs in Upstairs Hallway or Living Room no longer shows a debug menu.
Answering the front door before the doorbell has started ringing no longer causes the doorbell sound to ring throughout the scene after the door is open.
MC's torso is no longer missing when you try and grab Meredith's tits during the kissing scene.
You can once again give Meredith a foot massage using the lotion.
Loading from Saves from v0.2.x or earlier will no longer have the bulge HUD menu button overlap the old Nicole graphic. (Although it is strongly not recommended to try to continue from v0.2.x saves)
Scott will spawn near the dining room entrance when entering the Living Room from the Dining Room.
During the Boob Job scene, I've enabled the Dirty Talk I dialogue, so players don't get the confusing "You've not yet unlocked the Dirty Talk skill" popup when there's no way yet to actually do that.
Scott will no longer say "Hey man, don't you answer your phone" before he's tried to call you.
Fixed a bug where, while inspecting the cabinet in the dining room with the wine bottles, the game would let you click on the clock and lock the game.
Accessing the Settings menu (the gear) is no longer allowed during the Meredith Boob Job or Irene BJ scenes (consistent with other Spank Bank scenes).
Issues Others Have Seen But I've Not Been Able To Recreate
One player was able to get the Spank Bank in a state where the scroll buttons weren't active, making it stuck on the first 9 Spank Bank scenes (there are 11-12 in total). Try as I might, I cannot recreate this.
Issues Reported that will be fixed in a future update
Meredith's naked sprite has pubic hair (Landing Strip) but her bonus scene does not. (Per a recent poll, I plan on putting more thought into what kind of public hair the girls have)
Meredith's sprite asleep in the dining room has no legs.
v0.3.0.0 Public
Reworked Meredith's entire story and added a couple of new quests.
Added two new rooms to the house: Meredith's Bedroom and a Dining Room.
Added a new location: Aunt Irene's house.
Added two new characters: Aunt Irene and Aunt Charlotte.
All hotspots now have hover-over labels telling you what they are.
Added a "Pro Tip" system where a banner will pop up, giving information about certain mechanics. For example, when a hotspot action is repeatable, a Pro Tip popup will let you know that.
Expanded maximum number of Save Games to 64.
Increased MC walk speed by 20%
You can now rest in most places (not just your Bedroom or Living Room)
Exit Button replaces side and top hotspots (to eliminate aspect ratio bugs for closeups)
Spank Bank now shows "locked" slots, so you can tell how many scenes are in the game.
Quest Journal now capable of supporting multiple objectives.
Egg Hunt style quests will now report how many items you've collected and how many you need. Example: You have completed most home repairs [3 / 5]
Minor graphics enhancements in Brooke's second dream and Meredith "bonus" scene.
v0.2.3
Loading a save game from previous builds no longer causes Jasmine's journal hints to overlap over the rest of the journal.
Fix a bug where asking for a repeat of either the kissing or handjob scenes before getting the POV blowjob scene, but after giving Meredith the cash, causing her route to get stuck in an unfinishable state.
v0.2.2
Activated optional Meredith BJ in Kitchen scene.
Fix Brooke's Status: field in her journal (always Unmet).
Add a "You hear voices in the kitchen" proclamation when you enter the Living Room and Meredith and Brooke are in the kitchen discussing report cards.
Increased maximum number of concurrent dialogue options in hopes of fixing a bug where Scott's dialogue tree can go off the end of the screen (I was unable to duplicate this).
Fix a bug where an I See Dead People quest progress banner from Lucy's quest line will get stuck on the screen.
Fix Jasmine phone number not showing up in the phone interface.
Fix issues with Jasmine's journal hints.
Use day shader in the phone interface so MC isn't sitting awkwardly in the dark when he's calling people.
Fix "Meet me upstairs" line attributed to MC instead of Meredith from hug in the kitchen.
Adjust side and top hotspots in Computer closeup Interface so 4:3 aspect ratio (1280×1024) can exit the screen.
Modify the "Stay Strong" option when Brooke and Jasmine are persuading you to fix Brooke's grades so you get the same "fan service" as the "Let's See 'Em" option.
Narrator dialogue when you try to use the map indoors.
Fixed a bug on first day where it says you have already showered when you haven't.
Fix issues with Jasmine's journal.
Improve vague hints in Meredith's journal.
Add Silhouette showing where the door to Mom's room is.
Remove weird artifacts from disclaimer screen (opening the game)
Fix not being able to pan over to Mom's bedroom door in 3:2 aspect ratio (1280×1024)
Fix game map centering issue in 3:2 aspect ratio (1280×1024)
Fix a couple of misattributed lines when asking Scott about Time Machines.
Reintroduced "Make Bed" option when clicking on MC's bed which will let the player know that the unmade bed is not part of the Clean Your Room quest.
Cursor pointer icon will change when hovering over an interactive hotspot.
Changed line of dialogue in basement about "not having enough Empathy.
v0.2.0
This is what you can expect as far as new content:
The first set of quests for Brooke's story. Because it's early in her route, there are no explicit sex scenes with Brooke in this update. There are two "reward" scenes, but they are merely erotic in nature (imagine only playing Meredith's route up to and including the kissing scene).
Visual/Aural Enhancements to existing reward scenes. (Meredith's Kissing Scene, Meredith "Bonus" Scene, and Lucy Cowgirl Scene).
Windowed Mode/Full Screen Support + Resolution Dropdown + GFX Quality Toggle
New location: Video Arcade (Interior + Exterior)
MC Specialized sprite animations (you can now hug Meredith in the kitchen, the intensity of which depends on your progress with her)
Rudimentary Map interface for travel (will be improved over time)
Added Summon Nicole button to the HUD. She no longer pops in unsolicited. You have to summon her to get hints/advice from her.
Max Save Games size raised from 6 to 48.
If you're a returning player from *ahem* v1.0.0, here is what has NOT changed:
Meredith's basic story/walkthrough (although playing through it again will have minor visual/audio improvements in some spots)
Lucy's story (Although her hint system in the journal has been revamped to be more detailed/useful)
Jasmine's story (what little there was of it)
The Tutorial
Important Notes
As explained in a previous post, the version for the update is going FROM v1.0.0 to v0.2.0 due to a faux pas on my part. If you want the explanation for that, it's a few pages down. I believe the post explaining this had "Elephant in the Room" in the title.
I did my best to try to ensure save game compatibility from v1.0.0. My benchmark was loading a save from the previous version that had unlocked all content and verifying that I could finish the new content with it. I'm sure there is some state you could have had the game in that could cause problems. If you experience something like this, you can DM me your save game files and I will try and see if I can diagnose the issue and put them on a list for a possible hotfix later this week.
There is one particular new "reward" scene that I disabled for this release due to issues on the programming side. I imagine there will be a few things found that need to be hotfixed as players encounter them, so I'll continue to work on it and include it in an upcoming hot fix when it is ready.
v1.0.0 Hotfix
Added code in certain scenes to "unstuck" the MC upon loading. This will rescue saved games where the player is frozen. From my testing, this bug could only happen in the Living Room, Upstairs Hallway, Shed, and Basement.
Increased the hotspot size for the trash poking out of the trash can in MC's bedroom to encompass the entire trash can. I believe some players were clicking on the full trash can instead of just the small bit of trash poking out and coming to the (understandable) conclusion that the trash can wasn't a hotspot.
Renamed "Restart Game" menu option on the pause menu to "Main Menu," since it takes you to the *checks notes* main menu.
Changed all dialogue references to needing more "Intimacy" to generic, situation-specific "you can't do that messages".
Changed all dialogue referencing needing more "Empathy" to generic, situation-specific 'you're not ready for quest that messages".
Enabled Two "Perks" for the Bonus mom scene.
Jasmine's phone number now appears in the Journal when you discover it.
Lucy's eyeball reflections also vanish with her when she disappears in her dialogue scene.
Hotfix v0.9.4a
Clicking while text is scrolling will complete it. Click again to dismiss.
Increased text scroll speed significantly.
Double clicking while navigating causes the player to move much faster.
HUD Icons (Inventory, Map, Journal, Settings) will always be visible on the screen and the size of their icons was reduced.
Exit hotspots were added to the top and bottom of all closeups, Character Dialogue screens, and "reward" scenes to make the game playable for players using 1280×1024 resolution.
Using the hand icon on the newspaper will no longer show the newspaper closeup, therefore preventing the dreaded character freeze when leaving the scene.
If you *happen* to have a save game that was saved while in the Newspaper closeup, you will be teleported to MC's bedroom, where the freeze does not occur.
Fixed a bug where repeating the BJ scene Meredith will come into your room and stop at the bed and the scene would never start.
Added Quest Accepted and Quest Completed banners for the Clean Your Room quest.
Disabled "Make Bed" option from the bed menu (so not to confuse the Clean Your Room quest). The menu will still be there if you restore from a saved game.
Removed random debug hotspot in the Mom sitting on trunk scene.
Fixed some Meredith portrait dialogue that was misattributed to the Narrator.
v0.9.3a
Initial Release
Download Five of a Kind Porn Game
Keywords: Best 2D Porn Game, Unity Adult Games Free, Animated Incest Games, Porn Game Walkthrough, Games with Internal View