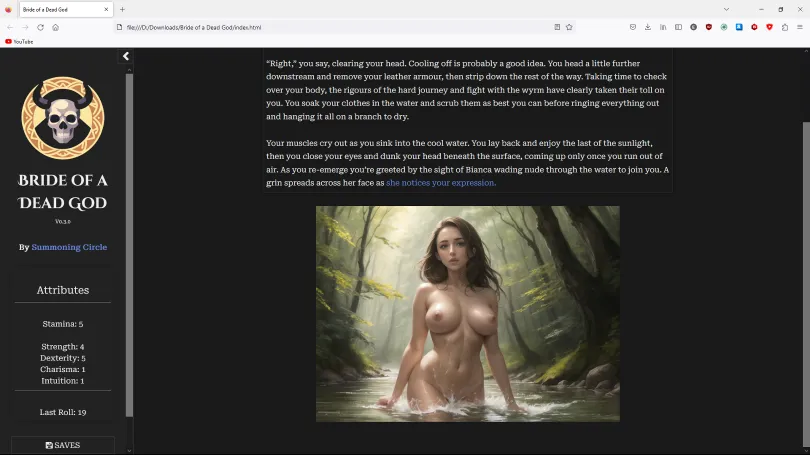 Bride of a Dead God Adult Game Download Overview
Bride of a Dead God is an adult choose-your-own-adventure game with RPG elements.
It's summer in Etrantus and time for the annual debutante ball. The nation's nobles present their most eligible daughters in order to arrange favourable matches, enhancing their wealth and power. This year is especially important though, the king's only child and heir, Princess Isabella, is being presented at the ball. Everyone hopes to be the lucky suitor to marry into the royal bloodline and it doesn't hurt that the princess is widely considered to be the most charming and beautiful lady in all the land.
Unbeknownst to those attending, the royals have incurred the wrath of an ancient enemy, one forgotten to all but the most powerful figures in the Cerulean Empire. Plotting for years, this enemy has laid a trap with world-shattering consequences and you may be the only person who's in a position to stop them. Can you fight your way through hell to rescue the Bride of a Dead God?
Game Information
About
Release Date: 2023-06-19
Developer: Summoning Circle – Patreon – Itch.io – Twitter
Censored: No
Version: 0.3.1
OS: Windows, Linux, Mac
Language: English
Genre: 2DCG, AI CG, Male Protagonist, Text Based, Fantasy, Creampie, Masturbation, Oral sex, Teasing, Interactive fiction, Choose your own adventure, RPG
Download Bride of a Dead God Porn Game