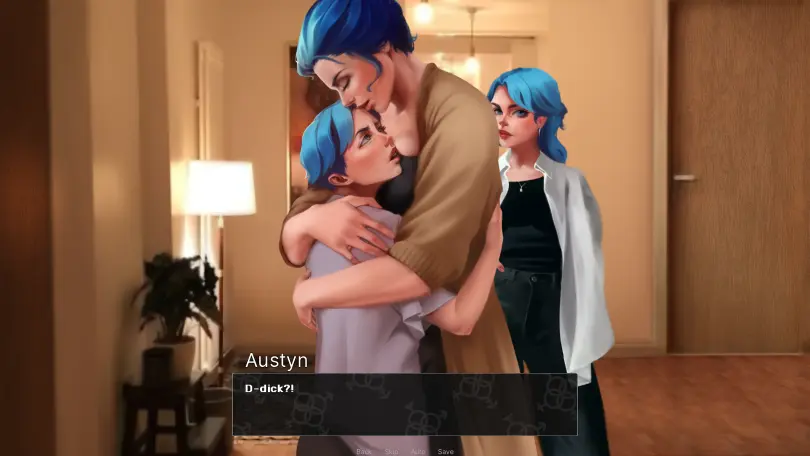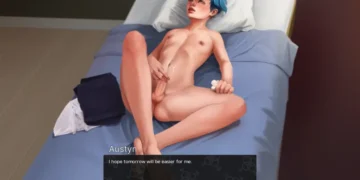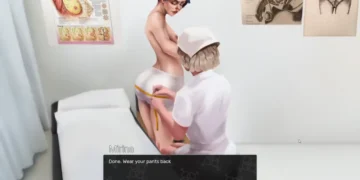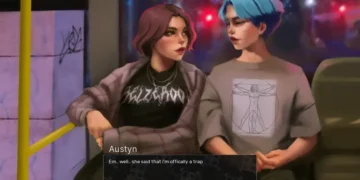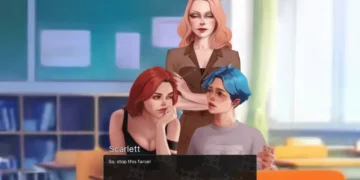 Becoming A Femboy Adult Game Download Overview
Becoming a femboy (previously Becoming a Trap – working title for now) is a game about young boy Austyn, who decided to travel to parallel universe, which is highly populated with fictional genders like futanari and traps.
In these realities your hero specified as a trap, so you have no other choice than adapt.​
Game Information
About
Release Date: 2023-08-14
Developer: Dev_muffin Boosty – Itch.io – Twitter – Discord – Subscriberstar
Censored: No
Version: 0.8.0
OS: Windows, Linux, Mac
Language: English, Russian
Genre: 2dcg, futa protagonist, big ass, big tits, teasing, masturbation, trap, sci-fi, incest, oral sex, handjob, titfuck
v0.8.0FM
N/A
v0.7.0b
-minor typos
-wardobe opening animation
v0.7.0a
corrected the names of the clothes in the pictures:
– The first image in the second date with Tiffany (the bug was due to ordinary socks)
– Trish's sex scene didn't include cow panties.
– Fixed bugs with old saves (items were not dressed when loading a save)
v0.7.0
– A new set of clothes for each character! It's becomes hotter!
– More than 30 new arts! Apart from their variations.
– 3 new sequences with Trish.
Yoga together, Sports together and much more fun.
– Sequence with Anna.
Very closely related to Mirina's Anal classes.
– Anal lessons.
It's time to do it. And also an additional sequence due to the consequences of the first session.
– Repeatable anal and oral sex scenes with Trish.
Just come visit her.
– Added a system for stretching the anus and enjoying anal sex. It's pretty simple, but the idea is that you wear a butt plug all the time, and with every tick of time in the game your stretch grows. Each level has certain limits.
For example: before starting the first class with Mirina, you need to carry the buttplug for 10 ticks of time, that is, 2 and a half days.
– Added a new screen to the laptop in your room. There you can see how many quests are in the game, how many events. A little hint on events not yet seen. As well as a section with sprites of other characters in the game. Different clothing options are unlocked as you progress.
Minor changes
– Slightly changed flow of work. First, you get into the locker room, and after that, you decide to work. (Anna can also be found there every evening).
– Added a new dialogue with mom about the porn magazine he saw.
– Trish is not available at home on weekday mornings as she is at school at that time.
– Jannet is now available at the school after the Hangout with Jannet quest (doesn't make sense for now)
– Added text and some animation based on existing images to morning scenes with Mom on weekends
– Character sprites on locations are dressed in new clothes.
– When the game is initialized, the character re-dresses in things. The system has been slightly redesigned to avoid bare body parts in case of errors.
v0.6.2d
issue when you tried to send selfies to James.
typo in statistic variable (game crashes on 3rd available interaction with mom in shower)
v0.6.2 update:
Fixed the order of the events scenes in a shower.
Remove the unnecessary transitions between the scenes (when closing the phone, for example).
Made a couple of interactions with James optional.
Added new laptop screen (now there is not much information)
Added debug mode in preferences (use only if you want to report a bug with detailed information)
Changes:
A formula for calculating earnings has been added. Now your perversion directly affects your earnings.
A laptop has been added! In the room, click on the table to view images in the gallery.
The inventory has been slightly reworked.
Drawing icons for everything is very difficult, so now there will be just names.
A store has been added!
18 items of clothing!
2 new slots for clothing!
Necklace and shoes.
A new yoga pose.
And overall, lots of new pictures.
Minor fixes for 0.6.1 update:
-Added Russian translations for Trish's note and Scarlett's diary.
-Added selfies with Anna in the dressing room (finally).
-Added the "necklace" category to the inventory.
-The store now has a category selection.
-In the store, you can now correctly rotate the player sprite.
-Added stat upgrades in places where they were missing.
-Fixed many images that were causing errors in the game. There were typos in the image names, and they simply weren't being displayed.
-Removed the ability to shower at night.
-Fixed a typo in Scarlett's laptop password. Respect to those who figured out how to decipher it before. Shame on me for making such a silly mistake in a word
-Yoga clothing is no longer available for walks outside the room!
Important: If you have a save where you are outside the house wearing yoga clothing, a fix button should appear at the top center. It will simply change your clothes.
-There were probably some other smaller changes, but I forgot. In any case, everything should only get better!
v0.5.0
– 8 new sequences! (a couple of them tiny)
– Little development of the main scenario. Waiting for a miracle.
– Interesting news. Visit Anna.
– Continue your exam preparations. Guess who will teach you.
– New yoga pose
Tech changes:
– Character equip yoga clothes automatically.
– Smartphone interface. Now it looks more pretty. Smartphone quests are in the Notes section. Also, you can check your stats there! Most of them are useless, but at least now you know about them!
– Inventory and clothes. There were a lot of bugs when the character dresses up in sequence. The "Perversion" stat had wrong calculations every time. In inventory, you can see the relatives between your cloth perversion and your perversion stat. If one more than another – you can quit your room.
– More migrations for old quests to prevent the wrong order of the quests.
– Order of quests is more strict right now. It was in a public release already, but you probably didn't play it.
v0.4.0
New Jannet sequences!
But Also the Holy and Anna sequences, because they have some connections!
Continue your "workout" with mommy.
(Visit your mom at evening in her room!)
Serious conversations with Jannet await you, as well as a pleasant surprise at the end!
(Contains NTR scene, also casual sex scene)
Ask Anna to help you with new underwear!
(Message her, get some money first!)
New yoga scene, also couple of micro-scenes for work!
And also many little things personally for me, which help me develop better.
Lots of micro-enhacements, which ablle to prevent some bugs, which even you may did not mention.
v0.3.3
Fixes:
Cafe work should now be available!
You can't skip time to the next day by clicking the button in the corner!
Auto-equip items after phone dialogues.
Now you're able to skip the gag-reflex minigame.
There might be a bug when you miss your language choice at the start!
If you skipped that thing, just choose it one more time in Main Menu.
v0.3.2
Mom Fix
v0.3.1
The most important thing – saves from 0.2.1 should work! Load your save-file with full progress and try the new content!
Two new sequences with Trish! Hang out with her!
(Accessible after you gave the notes to Trish)
Talk with Jannet about whats happened!
(Accessible after training with your mommy)
Go on Hospital Lessons!
(Accessible after lection in Hospital)
After you going to have an access to work and earn first money.
(But for now, there is no sense in money actually :c )
New yoga pose!
Minor bug fixes, which I found personally.
v0.2.1
New locations are on the map! Trish's Home and Hospital.
Reworked a few smartphone dialogues. Now you are able to click everywhere to pass through the dialogue. Also, return back the mouse wheel.
2 new sequences with Mom. Available after you go shopping together with mom in the Exam sequence!
Lection in Hospital – Yoga exercises. Available after 7 days of in-game time.
Wardrobe added. Click on the closet in the room.
Quests screen. I think it's going to be more comfortable.
Added some sounds to the game. Not too much.
Fixed resistance game in Scarlett's cabinet.
A lot of code refactoring.
Quests system – Stats system (useless for now)
A bit of logic for wardrobe. You can't go naked outside etc.
Russian translations also.
v0.2.0
N/A
v0.1.0
What's new:
Help Astra with her research (new sequence!)
Do something to get the notes for the exam (new sequence!)
New arts!
New backgrounds!
Smartphone feature (may look raw for now)
And other typical VN features
Tips:
If you don't know what you should do – press the "?" button at the left-top of the screen.
If you want to skip the day phase, click the indicator at the screen's top-right.
For now, the time system may look raw also because you do not have many options to do in your free time.
It will be fixed in feature updates. We working on it right now.
So, it's only 0.1.0, do not expect much, ha-ha.
Also, there will be no sound in new updates for now, because I faced big trouble finding something decent for it.
Will be fixed in future updates.
Also, there is one kind of gay scene in a game, so gay alert

but it's avoidable
Special thanks to:
English proofreader: anna_subCD, f95 community
0.0.1
Translation Hot Fix
Demo
Initial Release
Download Becoming a Femboy Porn Game
Keywords: Becoming a Femboy Fap Game, Android Porn Game Download, Best Gay Futa Games, Renpy Scifi Adult Sex Game