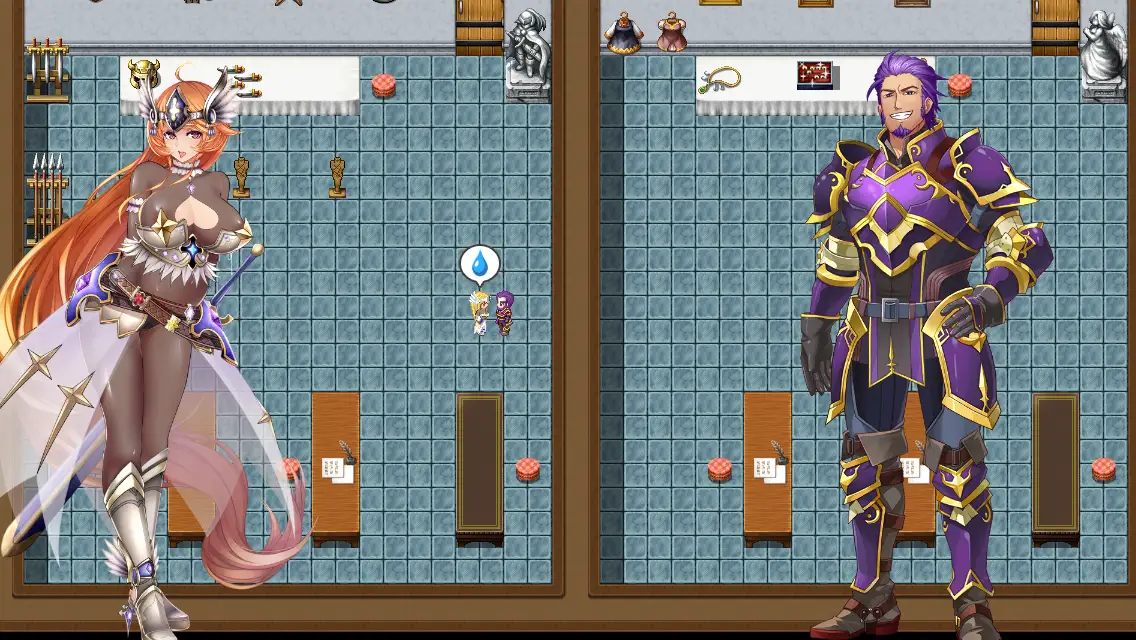 Cursed Armor Adult Game Download Overview
As the sequel of the Cursed Armor, this also will be a game telling a story of our heroine's adventure, but we have started to pay attention on the description of minor roles to satisfy players various interests. The new project imports an ARPG system, which means it's gonna be a whole new experience for players, however, everything it's still WIP.
Game Information
About
Release Date: 2022-03-09
Developer: Wolfzq Patreon – Discord
Censored: No
Version: 4.92
OS: Windows
Language: English (MTL)
Prequel: Cursed Armor
Genre: Anal sex , Ahegao, Bdsm, Big tits, Bukkake, Creampie, Drugs, Humiliation, Cosplay, Scat, Transformation, Censored, Voiced: A small part is chinese voiced
4.82:
Game breaking Bug fix
4.75 Update log:
1. Bug fixes
4.7 Update log:
1. The cycle logic of Didis Sea is completed (there are a lot of branches, and the perfect experience requires Zhoumu).
2. Fixed various bugs reported by previous players.
4.4 Update log:
(Temporary machine translation)
1. The Torres Spirit Line has added the loan manager plot, which triggers the fortune-teller in the priest's house at the beginning of the event.
2. Torres has added the design that the plot can leave if the debt is too high. If you owe enough, you can trigger the plot in the Chamber of Commerce after getting the pass.
3. In the event of the secret treasure of Torres' adult Zerg, the Evil Fall line is advanced to NE, and the other canary-led line has no new content.
4. To add the dialog review function, you need to initialize it once in the keyboard settings of the setting function, and the default L key.
5. The keyboard setting function is optimized, the setting is more clear and easy to understand, remember to initialize it once.
4.00 Update log:
1、Finished Parasite Cave.(Chinese update log will be translated later)
2、Optimize some system functions.
3、Fixed player reported bugs.
3.90 Update log:
1、Finished the event of Entering Parasite Cave.
2、Added a memo for the Talent Scout line and Prostitute line. This function will apply to all future side quests. 3, 4, Optimized some system functions.
3、Added a function to inform players when reach the end of current update, as well an entrance leading to the Memory Zone.
4、Optimize some system functions.
5、Fixed player reported bugs.
3.80
Update log:
1, To enter the following events of Long Hair Club:
A, Obtain Passport at Torres then return to Empire, talk to Jenny.
B, Obtain Passport at Torres then return to Empire, go wash head in the barrack
C, After few times of washing head event in barrack and you have learnt the magical hair transformation, talk to Jenny for combing
2, Add the prologue of Parasite Cave.
3、Fixed player reported bugs.
3.70
Update log:
1、Finished the event: Torres Special Order (progressed event requires PC have debt at COC).
2、Finished the event: Torres Castle of Illusion (30 days after the progressed event).
3、Fixed player reported bugs.
3.60
1、Finished 'leave Torres with the passport' event.
2、Finished 'Torres guard's daily' event.
3、Finished all port's shipping functions.
4、Finished the mini-event 'flower selling' in Anvil.
5、Upgraded the body fluid collecting system. Triggering the true end of the elf story-line to learn the body fluid collect magic (if you had finished the elf story-line, you will automatically learn it as you load the save).
6、Fixed player reported bugs.
3.50
1、Finished the opening chapter of the Canary's storyline in Torres, there are up to 7 ways to enter this storyline, which makes the Elf line the real hidden storyline of Torres.
2、Finished all Canary's daily contents.
3、Fixed player reported bugs.
3.40
1、Torres City escaping route is completed, you can activate it in the latter part of the prison plots, find the slacking off sailor in the up-left area of the south town.
2、Finished the escaping fail route. Be noticed that this route will lead you to an end of the game.
3、Finished the escaped and recaptured route, be noticed this route will lead you to an end of the game.
4、The Elf branch-storyline mechanism is available now, there now is a mini-game about entering the fort.
5、Fixed player reported bugs.
3.30
1, Finished Elf storyline.
2, Finshed all transformation voice-over.
3, Fixed player reported bugs.
Note: there is yet no trigger for the NE and GE of Elf storyline, instead, you can simply watch them once you play to the end. It will be finished in the next version.
3.25
1, The Elf line is 90% finished. The Good Ending is finished.
2 ,Added more BGMs, making it 4 in total, the combat transforming soundtracks have been replaced by the original version.
3 ,Added an option that allows player to start a new game+ as Jeanne, the precondition of it is changed to finishing 1 round of the game.
4, Fixed player reported bugs.
3.2
1, Finished 80% of the content of the Elf storyline.
2, Added Paid BGM, it is used in the prologue of the new game and the latest plots.
3, Fixed player reported bugs.
3.1
1, Add a recollection room in Torres.
2, The elf line is half finished.
3, Fixed player reported bugs.
v2.6
N/A
2.2
1, the item controller now has a sex toy automatical activation function.
2, the transformation animation and the voice over of entering the zone has been improved. CV: 李子.
3, the Lamia storyline end is finished.
4, the Empire Business District Restaurant shota(actually it's a boy who just reached legal age)'s event is finished.(Need Prostitution Permission.)
5, fixed player reported bugs.
2.1
1, Improved the loading of the gallery.
2, The divine artifact storyline is available. Player first time reacting to a teleport stone enters it. (In consideration of attuning early game-saves, player returning from any teleport station to the Empire Relic can also open this storyline. Please compromise some plot logic for game-playing.)
3, Fixed player reported bugs.
2.0
1, Empire line end fixed, now the boss battle has different influences.
2, Finished the branch line Owen reject Charles. Please select refuse at the Charles showing love scene.
3, Finished the empire noble district bath house events.
4, Unicorn rancher has a gamble function.
5, Improved PC's blow job CGs.
6, Fixed player reported bugs.
1.9
1, Finished storyline The Empire line1.(After leave Overlord Temple.)
2, Long hair club Open.(After Dignified Manner Classes.)
3, Fixed player reported bugs.
1.8
After you have left from the temple, go back to city and take a sleep to trigger following plots.
1, Finished all storylines of Overlord Temple.
2, You now will receive notes when certain skills are learnt.
3, Add a screenshotting function for people who likes saving CGs. Press F6 then your screenshots will appear in the folder named chucun which you can find at the game's loot folder.
4, Added breast state into the status menu.
5, Added Overlord special avatar.
6, Fixed player reported bugs.
1.7
1, Fixed bug: During sleep, Beast Mother may lose too much HP than expected which can lead to unable to win in the match.
2, The Empire storyline proceeds to before leaving Overlord Temple
3, All patreon related NPCs now have Force Controller, it can be used to toggle some costumes' high order forms. FYA, messing with this function might result in tragedy.
4, The Owen branch line now has a Meat Toilet path, currently, the path of refusing Charles is under sectional constructions and is temporarily stopped at before going to battle.
5, A Notebook function has been added into the game. The Empire storyline notebook guide is finished.
6, Improved some pixel animations
7, Fixed player-report bugs.
1.6
1, Owen's End G and End B are finished. The later stage of Owen's lore is finished. 1 End and 2 Owen Ends in total.
(All player's previous Alfred family branch choices made will effect the end you trigger, including in the very first Alfred family you chose accept or not.)
2, All basic Alfred family events are finished.
3、Players' reported bugs fixed.
v1.50
1. Owen's lore proceeded.
2. Added the World Map, all current existing areas now have basic monsters(no bosses).
3. Owen's NTR events starting time has been adjusted.
4. Owen's castle NTR events has been remade.
5. Owen's exposing player's identity event has been remade.
6. Now Divine Artifacts can neutralize Wolf God's Daugther Effect. All spots where the CA I's Divine Artifacts locate now have unknown Divine Artifacts for you to discover.
7. Players' reported bugs fixed
Download Cursed Armor II Porn Game