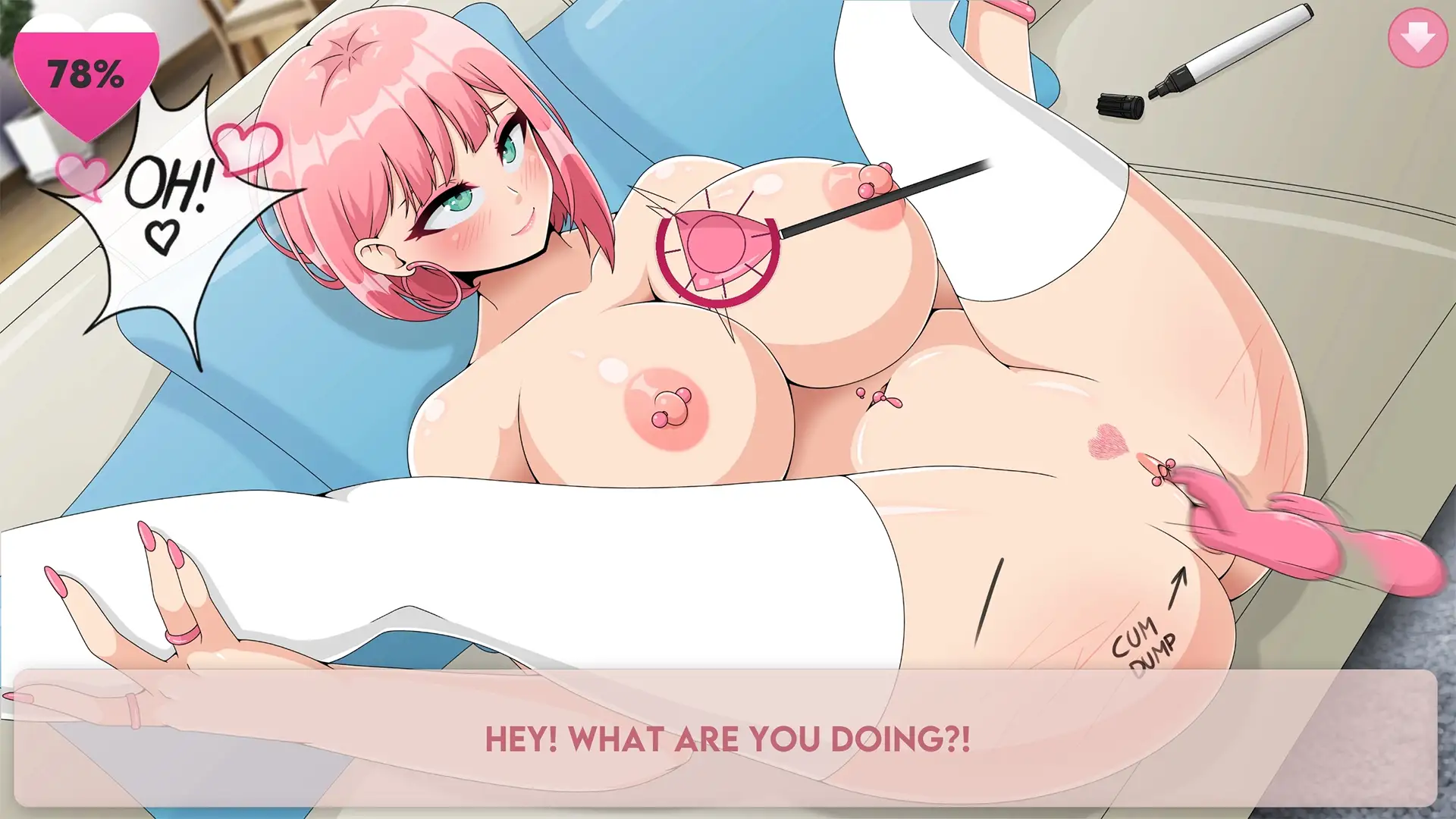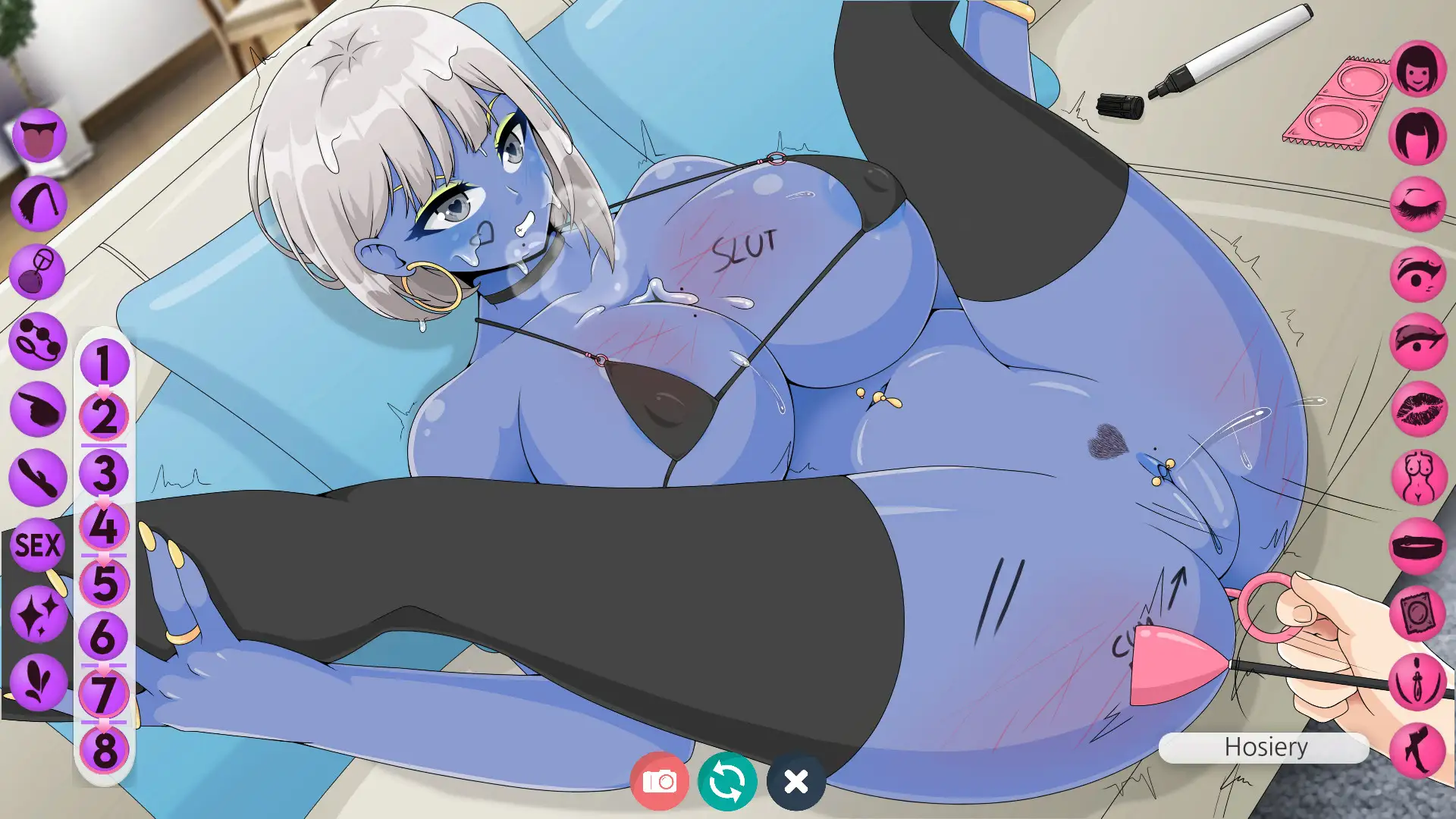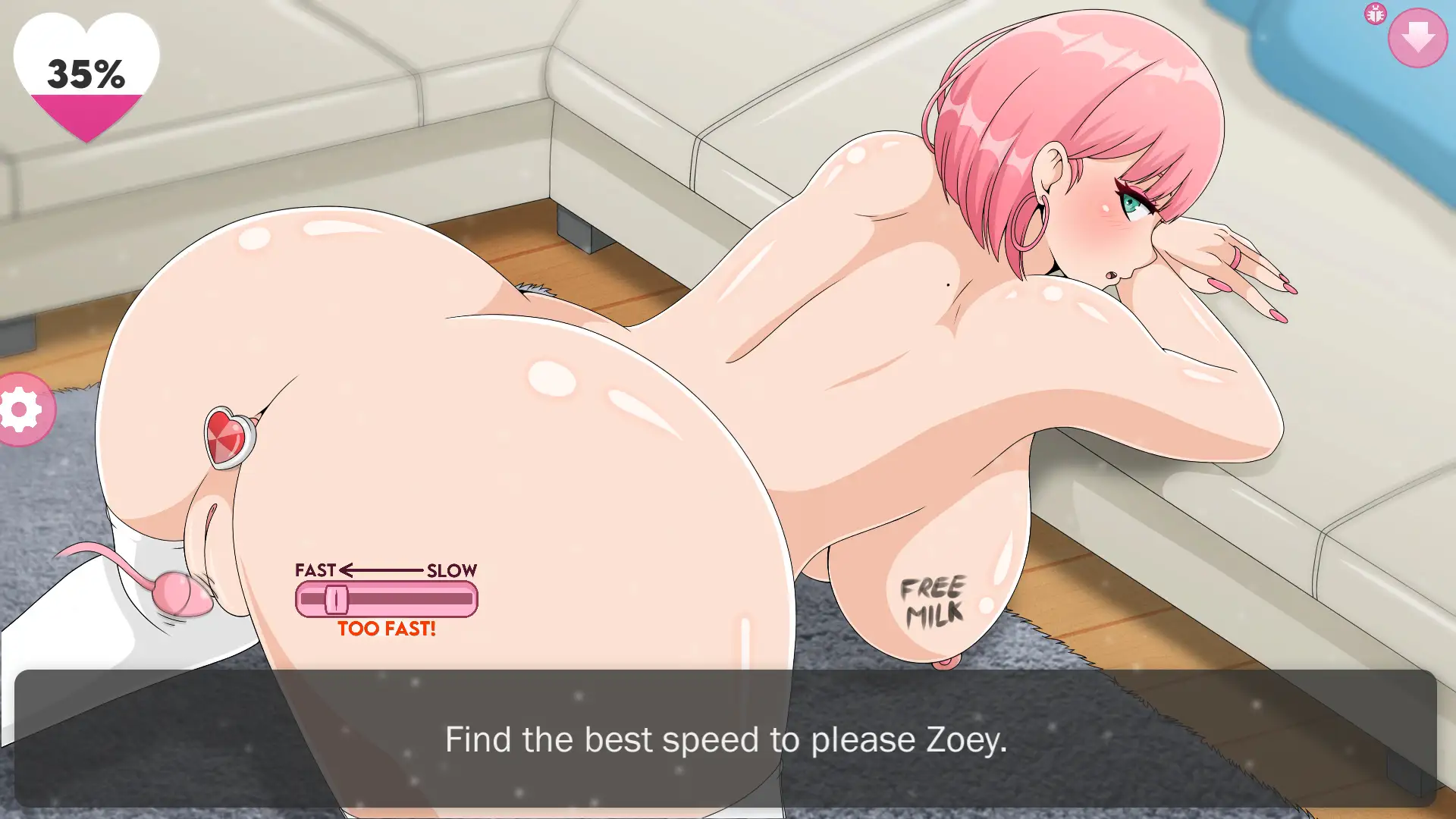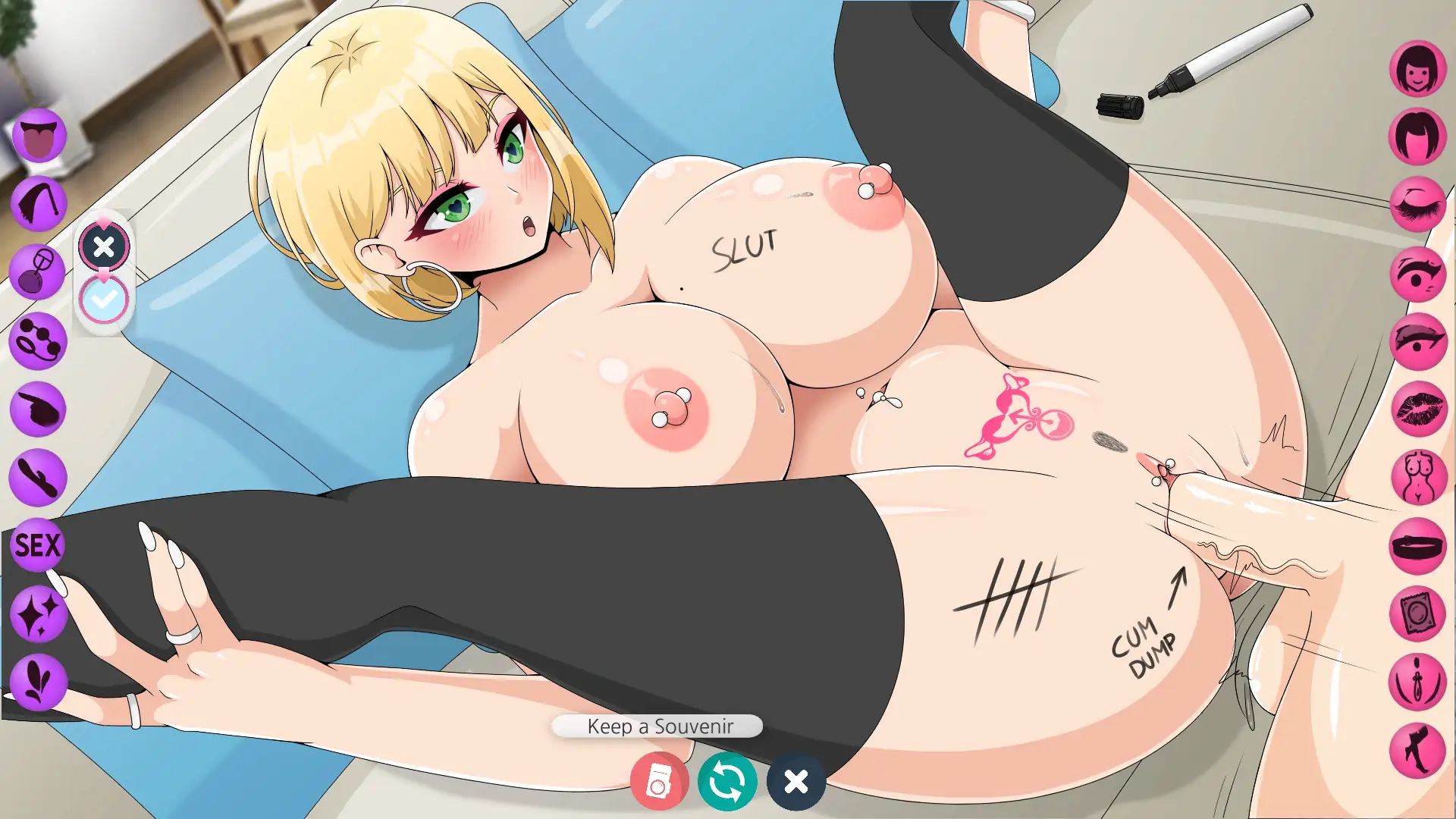 Zoey: My Hentai Sex Doll Hentai Game Download Overview
Zoey is the perfect girl next door and she wants to fuck with you so much! Do your best to conquer her!
She will adapt to please your need and offer you multiple one to one sessions with unlimited possibilities.
Spend all the time you want with her but don't exceed your limits.​
Game Information
About
Release Date: 2022-09-10
Developer: NSFW18 Games Patreon – Steam – Twitter – Discord
Artist: Erebeta Patreon – Twitter
Censored: No
Version: 1.1
OS: Windows
Language: English
Genre: 2dcg, male protagonist, vaginal sex, anal sex, sex toys, bdsm, male domination, big ass, big tits, teasing, minigames, visual novel, free mode
v1.1 : New DLC
NEW DLC AVAILABLE for HALLOWEEN: MAGICAL PAIZURI including:
Only "Story Mode", no Free Mode for those scenes.
Around 1000 words but we worked a lot of the effects and scenery!
New gameplay!
Skin color variation for the player included.
New temporary main menu for everybody but that will remain available only for people who own the DLC!
New Halloween themed tights and hat for the previous scenes in Free Mode (available for everyone).
v1.06
QOL: Addition of a Luminosity parameter in Settings.
Improvement: I changed the Steam effect in the bathroom (Scene 3 VN) to make it less aggressive.
Improvement: Additions of (many) new moaning SFXs on scene 2 & 3.
Bug: Settings button wasn't responding correctly. Fixed.
Bug: A heart button leading to an old Credits page in the Gallery. Deleted.
Bug: The bunny wasn't disappearing if you were restarting the Scene 3 or using it in Free Mode then playing the same scene in Story. Fixed
Bug: The player dick in Scene 3 was incorrect for some skin color. Fixed.
Bug: Top right menu was bugging after taking screenshots. Fixed.
v1.0
– NEW > Gallery #3
: I created the "Moment" Gallery! This gallery allows you to take pictures during the game and save them in the game. They will remain until you leave the game. Be sure to check the gallery before leaving and save on your computer your best shots!
This feature comes with a new button in VN/Sex/Free called "Save in Gallery" next to the old "Save to Computer" button.
– NEW > Achievements!
The game now includes 20 achievements to complete. I will do a special article about them! One thing: they are not all super easy to get
This features come with a new "ACHIEVEMENTS" screen available from the main menu which contain the achievements you unlocked and a little tips to help you complete them.
– NEW > Voice Acting!
Thanks to Erebeta and Oolay Tiger, we now have more voices in the game, especially for part 2/3.
– NEW > Panic Button!
We added a panic button which close the game instantly by pressing F1. This feature will be added to all our other games and the future ones!
– NEW > NEW END!
We added a new "ending" to the game when you finish SEX PART 3! I will not spoil and let you discover what Erebeta cooked for you
– NEW > DLC!
The DLCs are up and working!
– NEW > Trailer!
A new trailer is available, you can watch it on the Steam page
– IMPROVEMENT > Many many improvements on PART 1/2/3 VN & SEX!
I received a lot of feedback the last days about SFX missing, weird eyes behavior, etc… I completed more than 50 tasks of improvement in all 3 episodes!
We also changed some interaction in episode 2 and 3 to reduce the number of "fast clicking" events.
– IMPROVEMENT > Dialogues are FAST!
The "Fast" option for the dialogues is now saved on your profile and stay between episodes or when you restart the game
– IMPROVEMENT > Dialogues are SPACE!
You can now press the "SPACE BAR" to go to the next dialogue instead of pressing the "NEXT" button
– IMPROVEMENT > Best Score notification!
I added a "best score" notification when you do a better score than last time in a scenario!
– IMPROVEMENT > Gallery unlocks.
Unlocking elements changed, you now unlock 1/3 of the comics every time you complete an episode and half of the artworks in episode 1 and 2.
– IMPROVEMENT >Music:
The sound manager was bugged! You now have different songs depending the episode you are playing and not always the same one!
v0.45
– NEW > SEX PART 2, the first 20% are now available including:
Pussy/ass licking
Butt plug
Egg vibrator
Writings
I may do some modifications on this part later to improve it. SFX/VA will also be added later.
You can access it from the main menu using the "skip talking, go fucking" checkbox just below the picture. You don't need to complete the VN part but I recommend you to do it once!
v0.44
– NEW > Addition of VN PART 2: 100+ dialogues !
– NEW > This new part includes 3 game over choices so take care!
– NEW > Few adjustments in FREE MODE part 2 to prepare the SEX SCENE 2!
v0.42
– NEW > Part 2 ACTIONS are now available including:
Cunnilingus
Anulingus
Whip+marks
Anal beads
Pussy fingering
Ass plug
Sex (with/without condom)
Anal (with/without condom)
Effects
Cum/Lot of Cum/Squirt
– RESET is working perfectly so you can reset the FREE scene to restart from 0.
– Bug : Plug button is now purple, not pink
v0.40
Free Mode
– NEW > Part 2 is now available with almost all Zoey's customizations. Total is 73 different customizations (hair colors, eyes, new outfits, mouths, beauty marks…). Screen effects and the bottom bar (screenshot, resets ect…) are also working! Actions will follow soon.
– BUG > Backgrounds were stretched depending your resolution. It's now fix and backgrounds can't be deformed. You will see black bars if you are not in 16/9.
– BUG > Special Effects button now come back to "none" after the rotation.
Main Menu
– NEW > Free Mode part 1 and 2 are now available with a fake S+ no matter if you finished or not the Story parts. Only during the alpha.
– NEW > We added a "patch note" button to lead you directly to the patch note from the main menu.
v0.33
VN Part
– NEW > The beginning of the VN part 2 is now available with the 25 first dialogues.
– NEW > You can now choose your name when you start the game for the first time and then modify it in the options if necessary. All (player) in part 1 have been replace by the player name.
– NEW > You can also choose your skin color between 3 different colors. This skin color will be use in the story mode and in the free mode when we display: the mouth (when you lick something for example), the hand (when someone suck your finger for example), the dick (when you… you know).
– IMPROVEMENT > All thoughts from the player are now displayed in ( ) and in italic instead of just in italic. We changed after a feedback from the community, tell us if you prefer like that or the old way.
– BUG > Fixed few typos in VN part 1.
Main Menu
– NEW > Part 2 draft image has been replace by a way better version of the same image
– IMPROVEMENT > The Settings button is now hidden in the Gallery and will not overlap with other buttons.
v0.26
– NEW > Around 20 new dialogues has been integrated!
– NEW > New toy action.
– NEW > Zipper action.
– IMPROVEMENT > Some dialogues have been improved!
– IMPROVEMENT > Spanks now requires less clicking than bunny.
– FIX > Bunny not removed bug fixed.
– FIX > beads 3 choices bug fixed.
Free Mode
– FIX > Mouth not changing with button has been fixed.
– FIX > Pink hair not changing has been fixed.
– IMPROVEMENT > A shine effect is now visible on accessories (rings, piercings, earrings).
VN part
– FIX > On some poses, Zoey was cut on the left and right, it's now fixed.
v0.25
What's New?
Sex part
The sex part didn't changed a lot, I'm adding more and more animations/SFX/FX to pimp everything but it's not that easy to make everything looks!
– NEW > Breath (on Zoey's first orgasm) is now animated.
– NEW > Eyes have now an idle animation.
– FIX > Bunny not removed bug fixed.
– FIX > beads 3 choices bug fixed.
Free Mode
– NEW > CHROMAS: We added 9 chromas for the background of Zoey! They are prototypes, tell us what you think about them!
– NEW > SPECIAL FX: We added 2 "special fx" that can be activated on the picture. Sun lights and camera. We want your feedback and ideas for more!
– IMPROVEMENT > The save for FREE mode is back and should not interfere with Story mode now. When you setup Zoey and leave (or close the game), the next time you come back in Free mode, you setup will be here.
– FIX > RESET now work as intended and reset all elements (actions and customizations). The popup also close when you confirm the reset.
– IMPROVEMENT >Left/Right/Top/Bottom panel now appears when you start the FREE mode, you are welcome.
– Bottom icons changed.
– IMPROVEMENT > All the "0" to remove an item as been replaced by "X".
– FIX > All the bugged elements (egg speed 2, pump…) are working again!
– FIX > All the missing elements (white square) have also been fixed.
– WARNING > I noticed that I broke the "mouth" items while doing the last check, I will fix it asap. Sorry about that.
VN part
– NEW > A MAIN MENU button to leave the VN part, sorry for the oversight…
– IMPROVEMENT >We added a "Normal/Fast Speed" button for the transition between texts. The normal speed is 2 seconds, the fast is 0.2 seconds.
– IMPROVEMENT > We added a little transition on Zoey when she change pose to make it cooler.
– FIX >The little error on the backgrounds have been fixed! Thank you guys!
MISC
– IMPROVEMENT > We selected one music per mode and for the main menu. Tell us if you like them or not!
– IMPROVEMENT > We changed the font of the VN and Story dialogues.
– IMPROVEMENT > The Settings panel is now available in all the different mode and screen. I will continue to work on it and add more options. Cursor and skin color have been deactivated for the moment. Voice volume has been separated from SFX if you just want to active Zoey's voice and moans. I added "report a bug" and "patch note" buttons.
v0.24
Visual Novel – Episode 1
The complete visual novel part of the Episode 1 is now available! Meet Zoey and learn more about her!
More than 200 lines, 3800 characters and more than 66 Zoey variations.
Tell us what you think about it or if you spot any errors.
Sex part – Episode 1
The Sex part of Episode 1 also received a lot of changes:
– The story continues with few more dialogues. I will not spoil and let you discover!
– New animations, we integrated lewd new animation to make the action even more interesting! And it's not finished, check the previews we posted on Discord
– New gameplay, the "fast click" was the mechanic we wanted to integrate for all the "poking actions" but we wanted something different for the "turn on this". It's now integrated for the egg vibrator and the dildo at the beginning! Tell us what you think about it!
– The little glitch on the top right menu has been fixed.
Free Mode – Episode 1
– SFX on whips
– Animations made for the sex part are also available in Free Mode.
– Some UI has been reworked to better match with the others.
MISC
– New songs have been integrated. They will not all stay. Give us your feedback. The title of the song is displayed at the bottom left corner.
– On the main menu, you can chose, in Story Mode, to skip the VN part to directly go to the Sex part.
v0.2.1
What's New?
Story mode:
I continued with
few more sequences
of the Scene 1. I will not spoil but will only say it wasn't the easiest one with a lot of different actions and different toys used! It also revealed some flaws that I fixed.
I received a lot of feedback about a lot of minors changes here and there, I did them all! Don't hesitate to send more if something bother you in the sequences of actions. Especially regarding bubbles and voices. Same for typos, they all have been fixed!!!
Please send them on Discord!
We added, with the help of the amazing Oolay Tiger(follow her!) some
voice acting
for Zoey.
Some SFX
(not final) have also been added to pimp the action.
Some animations
are also appearing! I really need your feedback on them (on Discord as well)!
The cursor
of the game has changed! Do you prefer this one or the finger? Real question!
The "love up" & "love down" have disappeared for a more subtle and integrated representation of the increase/decrease of the score. What do you think of this change?
Free mode:
The SFX and Animations added in the Story are also activated in Free Mode, I didn't tested them but I will have to add a "mute" button for sure! It's in the TODO list.
v0.1b
What's new?
Big rework of the main menu (including Zoey welcome!)
Big rework of the Settings panel
Changed the transitions between scene!
Added a new "select scene" screen.
Big rework of the story (font, panel, options, highlights ect…)
Added a new "customization menu" on the top right of the story mode allowing you to change the skin and hair color of Zoey in story mode. This change is saved so you can keep Zoey as you like during the story mode.
Rework of the popups
Big rework of the "Love Bar" on the left (which was a placeholder taken from OF)!
Bug with the Free mode impacting the Story > Fixed!
Bug with broken popups > Fixed
Download Zoey: My Hentai Sex Doll Hentai Game