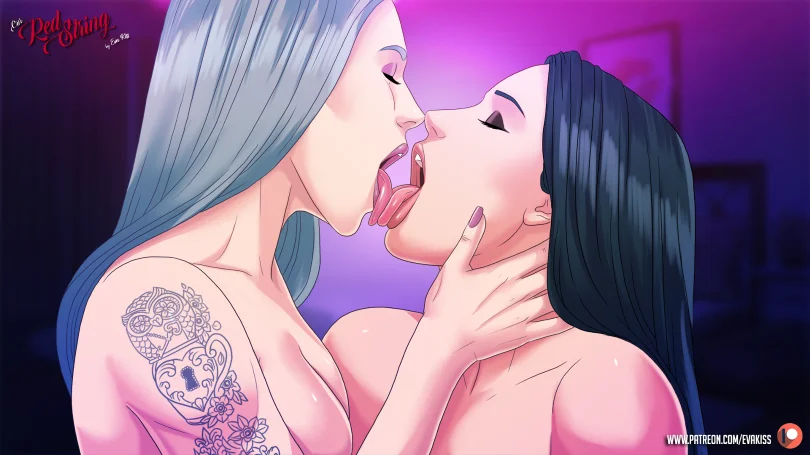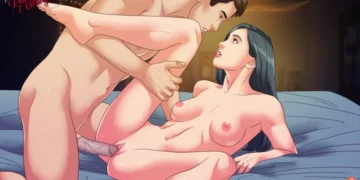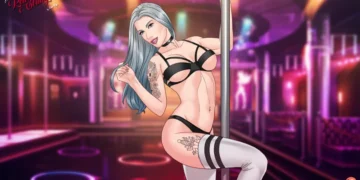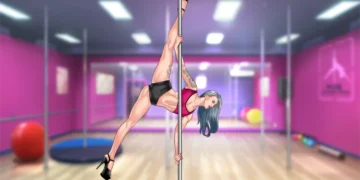 Our Red String Adult Game Overview
Lena and Ian are two very different people who find themselves in a very similar moment in their lives. Both struggling to achieve their dreams, both hurting because of love. Their lives will become intertwined, with each other and with several characters that will impact who they are and who they will become.
They will be able to experience the heights of love or the depths of lust, friendship or betrayal, moral or immoral, success or failure… And you will be the one to choose. But one's choices can often tangle together and lead to an unexpected mess, so be mindful, for you thread the thread of their Red String.
Game Information
About
Release Date: 2021-04-05
Developer: EvaKiss Patreon – Discord – Itch.io
Censored: No
Version: Chapter 11 Epilogue Complete
OS: Windows, Linux, Mac, Android
Language: English
Other Game: Good Girl Gone Bad
Genre: 2DCG, Male protagonist, Female protagonist, Multiple protagonists, Romance, Corruption, Stripping, Teasing, Interracial, Milf, Anal sex, Big ass, Handjob, Masturbation, Oral sex, Titfuck, Vaginal sex, Voyeurism, Mobile game
Chapter 11 Epilogue Complete release- 2023/10/13
This is the final iteration of Chapter's 11 epilogue, featuring Lena's Friday. All the reported bugs should've been fixed and other features fully implemented. I've also added some new original music tracks to the game's score.
Sorry it took a bit longer to be released, I got sidetracked with work on Chapter 12 already. I'll share some news with you of what to expect moving forward, but my plan is to give you new content very soon. Meanwhile, enjoy this last part of Chapter 11 is you haven't already, and let me know your thoughts and opinions.
Chapter 11 Final
The complete iteration of this release is finally here. It took a while since I've been ironing out some obscure narrative bugs (BloodyMAres help is being invaluable in this task), and I've also added new music. Lena's second song, "Shine Again", has been fully realized with an original composition and lyrics, so if you got the mini-game choices right, you'll be able to listen to it during the concert scene in Chapter 8 , but I've also attached the mp3 file in this post so you can check it out right away! I've also added two new narrative scenes that weren't present in the Beta, nothing major, but it sheds light on a new plot point in the Seymour route as well as detail a bit more of Ian and Lena's relationship.
v11.1 – Chapter 11 Beta- 2023/07/07
A lot of bugfixes for chapter 11 (visual, narrative and code wise but no new content)
5 scenes were added to the gallery
v11.0 – Chapter 11 Alpha – 2023/06/30
Chapter 11 release
Bugfixes for previous chapters
New texting UI
Built-in gallery unlocker
v10.3 – Chapter 11 Prologue (Full Version) – 2023/02/20
v10.2 – Chapter 11 Prologue (Beta) – 2023/02/14
v10.1 – Chapter 11 Prologue (Alpha) – 2023/02/10
Scene list:
Gallery Updated to include all new scenes
Groundwork for CH11
Bug Fixes in CH10
v10.0 Final
It includes the new Minerva scene, featuring 8 new full screen illustrations and 1 animation, 1 new outfit for Minerva and about +1500 new lines of code to the script, plus some tweaks, enhancements and solving the reported bugs. More info the the other post!
v0.10 Beta- 2022/12/08
Bug Fixes
Gallery finished
No new scenes
v0.10 Alpha – 2022/11/29
Chapter 10 release
Scene list:

Image: Ian
Image: Alison
Image: Cherry
Image: Cindy
Image: Holly
Image: Lena
Scene: Lena
Scene: Jess
Scene: Ian x Cindy
Image: Cindy
Scene: Ian x Holly
Scene: Ian x Lena
Scene: Ian x Ivy
Scene: Ian x Emma
Scene: Ian x Lena 2
Scene: Ian x Alison x Jeremy
Scene: Ian x Alison
Image: Mike
Scene: Lena x Mike
Scene: Lena x Louise
Scene: Lena solo
Scene: Lena x Holly x Ivy
Image: Holly x Mark
Scene: Lena x Mark/Mike/Ian
Scene: Lena x Ivy
Scene: Lena x Louise x Jeremy
Scene: Lena x Mike/Ian/Stan
Scene: Lena x Seymour

Gallery not finished
v0.9 Remastered Final – 2022/04/25
Bug fixes
Grammar and typo fixes
Small change to Ian's Wits outfit
Android release
v0.9 Remastered Beta- 2022/04/14
Bug fixes

Most importantly fixed the Will stat not changing

Grammar and typo fixes
v0.9 Remastered Alpha – 2022/04/08
Remaster of CH1-9
Revamped Stan's story and look

Redesigned Billy's look
Revamped prologue
Revamped multiple images
Added a couple new images

New image for Mark
New images for Gillian
New Lena x Jeremy sexting scene
New Lena BBC masturbation scene
And more changes to existing scenes

Remastered all book cards
2 new backgrounds
Dialogue and story edits
For full changelog see Patreon post Remaster Final for word doc[*]

New Tutorial
New Difficulty Levels
Complete stats revision and balancing
7 New music tracks
Ambient music and sfx overhaul
Fixed bugs, created new bugs
v0.9 Final – 2021/11/10
bug fixes to story
Two new scenes with Emma
Edit to ch8 – Emma x Jeremy scene
0.8 Final
Added two new, fully fledged sex scenes: Ian x Emma and Lena x Mike, with 10 new flull-screen illustrations, with variations and 1 new animation.
Now Lena can choose to wear two necklaces during her concert, and they will also show up during Ian x Lena sex scene
A new illustration for Lena x Mike sex scene in Chapter 5 and a reworked illustration I wasn't happy with.
I retconned Lena handing Seymour Ian's book. Now she hands it to him at the start of the photo shoot in Chapter 6
Added an option to skip Ian's heavy bag boxing minigame in Chapter 5
Added the missing cameos
v0.7 Revised
As I'm working on Chapter 8, I've also revised a couple things across the previous chapters. I've gone over Ian and Wade's interactions, since there were some incongruities after tweaking Wade's job situation, and this also allowed me to revise his and Cindy's introduction in Chapter 1.
Having to work on the game release after release, and trying to publish them as fast as I'm able, means that I rarely get to revise what I wrote and polish things. I'll admit I'm not a fan of going over what I wrote over and over again, but in this case I think that first scene flows better and represent the characters more accurately, since I didn't know them as well as I do now when I first started writing them. It's a minor thing, but to me it's important!
I've also added two new tracks to the soundtrack, now Cindy has her own dedicated theme, as she should! When she appears on screen she usually steals the show, and she needed some music to highlight the impact she has.
Anyways, just a few small changes but I thought they were worth re-releasing this last update.
v0.7 Beta
It's finally here! Chapter 7: Heavenly Sins is finished. The Beta corrects a few minor bugs and spelling mistakes present in the Alpha and adds a few tweaks to some scenes that I felt needed to be modified, but it's subtle stuff. Updates to the Agenda section are still needed and will be implemented in the Final version, which will also contain a new sex scene, so stay tuned for that!
This has probably been the most challenging update I've pushed out so far, and it took me longer than I anticipated, but I think it'll be worth it. Thank you so much for your patience and support, and I hope you really enjoy this one!
This update is packed with the most amount of content I've ever crammed in a single episode, it has 80+ full-screen, full-color illustrations, 20.000+ lines of narrative code and sex scenes with over 10 characters. Be mindful, to see all possible events you'll have to go over the chapter at least two separate times, and a lot of what will happen is dependant on your previous choices.
Did you Lena tell Louise about Jeremy's games, causing them to break up, or are they still together? Did Lena sleep with Robert or rejected him right away? What's Ian relationship to Emma, Alison, and the other female cast? Try different choices to discover wildly different scenes.
v0.7 Alpha
N/A
v0.6 Final
Thanks to everyone who helped me polish this and reported any bugs. Everything should be fixed now, and I also added a couple new small features.
Updated the Agenda information and created missing character profiles.
Added the option to manually name individual saves (thank you Lara for your mod!)
Ironed out minor bugs that could cause compatibility issues moving forward (thank you BloodyMares and Cabot, and anyone who reported them!)
Cleaned remaining typos and grammar mistakes (thank you again, vBerlichingen!)
Changed the variable requirement for the appearance of certain character (can't say more without spoiling it, so I'll talk about that more in depth in a later post)
v0.6 Beta
Here's the Beta for ORS Chapter 6!
The Alpha was pretty stable and only minor bugs had to be fixed. Here's a changelog on what had been altered:
Added a new dialogue option to the Cherry/Alison bar scene that will be relevant in the future, but it doesn't add a new variable. It just transforms an old one from True/False to a numerical value.
Fixed a loop that was present in Chapter 2
Fixed story inconsistency regarding Wade
Fixed various graphical bugs
Fixed minor coding bugs
Fixed a few spelling mistakes
There might still be some minor bugs or inconsistencies, so please let me know if you find any!
Working on Chapter 6 has been a very big challenge. It packs the most content and art from all the updates I've ever produced, and I'm very proud of the result. I hope you guys enjoy it and to have made your wait worthwhile.
I've tried to make the story and character interactions advance and some are already ripe, while others are steadily moving to their climax. There's still a lot to come but I think Chapter 6 will feature a couple of very anticipated scenes, some of which can be rather unexpected… And also it includes that big surprise I've been teasing these past couple of days, and it's something long-time patrons will surely enjoy.
Anyways, it's better if I shut up and let you play it. I've done a through bug-testing and BloodyMares and vBerlichingen have been incredibly helpful, going out their way to work on the script with me with proofreading and bug-testing. There's bound to be a little bug here and there, but it shouldn't be anything major. If you find any, please let me know down in the comments.
0.5 Enhanced
Hello! As I said on my previous post, I've been re-working some stuff on ORS and here's the result! Having some free time during September helped me see a few things that needed to be improved and tweaked to get a better and more polished product, and I want ORS to be the best it can be…
This means, as always, that there might be some problems moving forward if you use old save-files. I know it's annoying, but this is a work in progress, after all… You will be able to play chapter 6 with older saves, but is probable at some point you'll experience some minor bugs, or have problems accessing new scenes, so I'd recommend starting a fresh save at some point. I've tried to make starting over worth it, though…
So, what's new in the enhanced edition?
I've added a couple things to strengthen the driving narrative of the story, making Ian and Lena's personal goals a bit more clear. Lena's situation at the café is also re-worked and better tied to the narrative and gameplay.
I've added a few new interactions with Axel and Ivy that will open up interesting plot points in the future. Not including them felt like a missed opportunity.
I've restructured Ian's training sessions to be more coherent. I dug myself in too deep giving the option to choose between two martial arts, but it's something I wanted to explore. Now the progression is clearer and makes more sense, and there's also a new goal related to that path of the game: an upcoming tournament!
I'm reworking Robert scenes to make him more likeable. Don't worry, you'll still have the jerk you love to hate, if you don't correspond his advances. But I felt Lena had a lack of appealing options 5 chapters into the game, so I want to make Robert fun to pursue if you as a player are into it.
There will also be a new naughty scene you'll see over the phone… Just make sure you're in good terms with Jeremy
I'll implement a way to track the current day in game, so you always know where the scene you're playing is happening in the chronological order.
I've also made some minor tweaks to some stats and restructured the way I compute the variables in the script, but that shouldn't concern you.
Some other minor tweaks and re-writes I can't remember now, but most importantly…
ANIMATIONS! I've been experimenting with the idea and implemented quite a few animations during sex scenes. It's a feature that has been really requested and I've decided to give it a try… They are just simple 2-frame animations, but it's the best I can do considering my work-load and schedule. I want to hear your opinion on them… Do you like them? Do you feel they add something of value and are they worth the time and effort needed to create them?
I hope you enjoy the new version and keep supporting the game moving forward. It really means the world to me.
0.5 Final
N/A
0.5 Beta
n/a
v0.2 Alpha
Chapter Alpha Build
v0.1
This final release of Chapter One has a completely reworked sprite system
v0.1 Alpha
First Release
Features:
Walkthrough
The mod provides additional information to help you make the best decision.
Gallery Mod
At the bottom, a short description of the scene with the name of characters involved. If the scene is locked, the description is replaced by a hint on how to unlock it.
Select a character on the left to filter the scenes.
The mod version appears in the top right hand corner. Click to check if you're using the latest version.
You can watch a scene even if you didn't unlock it.
Rename
You can rename most of the characters.
Installation:
For PC, extract the files, paste them in the folder where OurRedString.exe is and click on the ORS JDMOD Installer.
For Linux, extract the files, grab the game and renpy folders from the JDMOD+RenpyUpdate folder, merge them with the ones in the folder where OurRedString.exe is.
For Mac, extract the file, grab the OurRedString.app folder, merge it with the existing one.
Download Our Red String Porn Game
Keywords: Our Red String Download, Our Red String Android Download, Adult Visual Novel, Best 2DCG Porn Game, EvaKiss Game Download