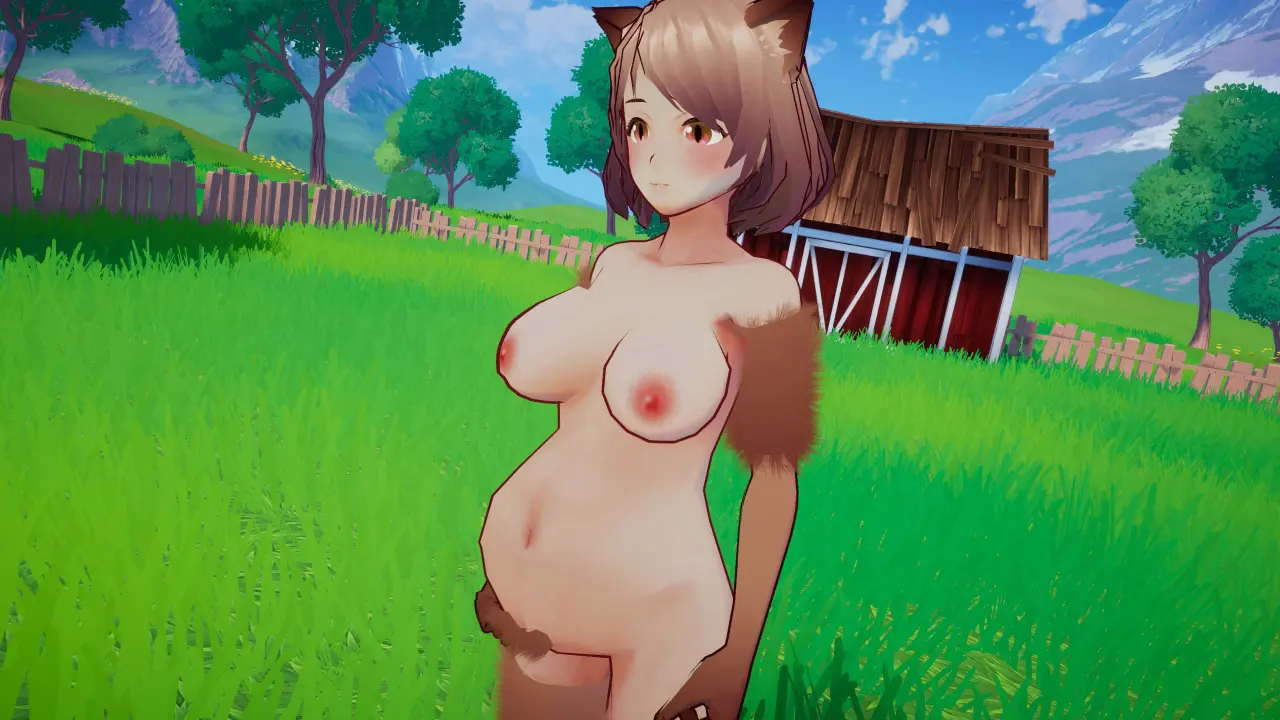 Mating Season Adult Game Download Overview
Inspired by another breeding game, Breeding Season. Your parents have passed, leaving you with a once proud farm that has sadly fallen into disrepair. As a first-time monster breeder, there's only one thing to do – screw your way back up to the top! Explore bountiful woods and moist caverns, searching for exotic creatures to add to your collection. Breed a bevy of buxom beasties, either by playing matchmaker or by getting first hand experience. And if country life has got you down, there's always a shoulder to cry on, a lap to sit on, and a hole to fill in town. It's time to grab your destiny, and it's big enough that you'll need both hands.
Formerly Breeding Season 3D
The goal of this project is to create a title that focuses equally on eroticism and on in-depth, satisfying breeding mechanics. I aim to provide a beautiful game with visually stimulating graphics, inviting sound design (with voice acting for NPCs and monsters!), and an immersive world for you to explore. By playing through the game and making new friends (and lovers) you will be able to unlock new locations, capture new monsters, and breed magical creatures with unique appearances and traits.
Game Information
About
Release Date: 2022-10-11
Developer: Love OS Games – Patreon – Twitter – Itch.io – Discord – YouTube
Censored: No
Version: 0.1.2k
OS: Windows
Language: English
Genre: 3D Game, Animated, Male Protagonist, Futa/Trans Protagonist, Female Protagonist, Anal Sex, Exhibitionism, (OPTIONAL) Futa/Trans, (OPTIONAL) Gay, Harem, Pregnancy, Vaginal Sex, Voyeurism, Adventure, Management, Monster, Monster Girl, Humor, Romance, Sandbox, Trainer, Simulator, (OPTIONAL) SUPER STRAIGHT SEX
v0.1.2k
New Monster: Elf! (Near the lake, to the right side)
New Town Map: Town Redesign
New Sex Scene: Doggy
Pick Sex Scene (Heart/Missionary/Doggy)
GUI: Dialogue keyboard shortcut (Space Bar, Response Numbers)
New Cheat: Get a monster of any race by talking to LoveOS NPC!
Artist Mode: Hair Choice
Artist Mode: Neck Length
Artist Mode: Elf Tattoos (x3), female pubic hair (x3), and male body hair (x1)
Artist Mode: Glow effect
Artist Mode: Time slider (Preview Day – Night)
Artist Mode: Removed Legendary from color palette option
Continuous Run toggle
Randomized offspring race (if both are monsters), instead of default to the pregnant breeder's race
Bug Fixes
BUG: Fixed custom palette inheritance when breeding custom monsters
BUG: Artist Mode – when changing color, material values are reset
BUG: Removed pickaxe and axe from shop because player gets them at the start of the game
BUG: Fixed crash that happens sometimes when a monster is spawned
v0.1.1i
Due to Artist Mode, visual traits are now still in the process of being recalibrated. It is advised to not breed high level visual traits as the result might be too extreme~
New anime shader!
Bug Fixes
BUG: Sometimes BGM won't play
BUG: Monsters who are caught don't have random names
BUG: Cannot insert whitespace/special characters in ranch name textbox
—
Development Log
Here's what we're working on in immediate future:
More monsters
More sex scenes
Reworking stat system and breeding mechanics
Removing lag when monsters spawn in mountain
—
v0.1o
New Monster: Bunny! (Trait: Sex Machine – Breed 2x/day)
Sex SFXs (M & F)
Turn off female/male sex SFX on Settings
Settings Toggle: Naked player
Updated NPC Art Fullbody!!
Quest Board has weekly quests
Dating System
New Feral: Wolf!
SFW Streaming Mode: Censored Mode!
Replaced invisible barriers with cliffs
Better Random (Catching Chance, Generating Monster Randoms)
Separate NPC functions with shops
Add more bush to make catching easier
Gender icons for wild monsters
Notification when damage does 0 to trees
Game is paused when losing focus
Gameplay design, plot progression for 7 days of game time
Dating System
Talking 1x/day increase heart exp
Heart indication in textbox dialogue
Gifting (Gift selected item in hotbar)
Settings to disable romantic interests of certain genders
Birthday!! (Rose: Spring 10th, Eric: Spring 22nd)
Bug Fixes
BUG: Hotbar items and even if you put it in the storage it remains on the Hotbar and can even be used
BUG: My status stayed at everything 1 even if i level skills also i always have 3 skillpoints
BUG: Free camera during sex need to be limited
BUG: textbox full text revealed then next frame slowly revealed from 0 char to full
BUG: low stamina lv (1), jump off and forever falling animation
BUG: Stamina 1 cannot auto attack
BUG: Throwing collar glitch when running out of stamina
BUG: When crouching and catching, the monster notice you even if they didn't before. throwing = no sound as well? cooldown?
BUG: Monsters still tired the next day after breeding
BUG: Remapping the E (action) key is partially broken. I remapped it to U and it does not work for talking to LoveOS, or moving locations, or the workbench, or maybe one other thing which I forget – but it does for interacting with other things such as town inhabitants, logs, rocks, plants, shearing monsters, breeding monsters and so on
[v0.1] Temporary Hotfix!!
Increased quest rewards as we work on more systems for the player to produce income.
Lag in mountain area and crash when opening menu When the game spawns new monsters the game will lag a bit. Don't open the menu/inventory when the game lags as it spawns new monsters. Only open the menu when the game isn't lagging.
Save data is not compatible between builds (not yet at least).
If the game crashes when loading save data from last build or if you're stuck in forever loading screen from continuing save data from last build, please start a new game instead 😐
v0.0.12f
Free Camera during sex
New Monster: Naga!
New Trait: Bootiful
Hotbar
Drag n drop inventory swap position, hotbar assignment
Game Cheats – Talk to LoveOS
Skittish Wild Monster AI (Tauriens)
Bush = stealth, but if you're in combat bush doesnt matter
Crouching = no footstep noise, help with stealth
If monster is aware of you, or if you're in combat with the monster capture rate is much lower
LockOn UI indicator (Press TAB) for capture chance: Green = High, Yellow = Medium, Red = Low
Passing out animation when 3AM
Save button in menu
Toggle Inventory shortcut: I
Jiggle reimplemented
FxF and bottom Snake animations are unavailable so they will be replaced by a heart icon instead when breeding. Their sex scenes will be added later.
Bug Fixes
Inventory: more than 1 same item stacks not saving properly
Fix inventory action panel error clogging up the error log
Nap fade blackout multiple times, character can still move but theres a black screen
Can catch a monster that is already being caught, producing errors
Forever loading screen.
BGM randomly turning off when leaving a location
v0.0.11c
Keyboard remapping
Upgrade Barn
Upgrade Backpack
NPC and Farm Monster Voices (let me know what you think!!)
Nap -> recover stamina
Updated NPC Art: Rose
New NPC Art: Eric
Player skills: vitality (stamina), physique (damage, defense)
Title screen New Game => Confirm deleting their old data
Bug Fixes
Town shops random error when closed
v0.0.10c
New NPC Art: Nawa!
Save System: Auto save game data every 5 minutes.
Crafting System
New daytime system (smooth day-night transition)
Removed old food system with feeder, will be replaced with a new feeding system later
New loot in mountain: Branch, Nipple Berry Tree, Weed, and 2 Spring Flowers: Veronica and Primrose (names might be changed later)
Press H to toggle hide/show GUI. Good for recording/taking screenshots of the game.
Mods are now located in /Mods folder inside game's folder (instead of the root game folder). Move all your mods files inside this /Mods folder.
v0.0.9c:
New NPC Art: Arjun!
New NPC Art: Caleb!
New NPC Art: Neith!
Default time speed is now at 1x, and max time speed is at 5x.
Player only get 1 monster of their choice as a starter (in intro).
Barn capacity is now at 10 monsters.
Updated mountain area!
Catch new monsters in the mountain (70% flat chance)
Pregnancy is now at 30% chance instead of 100%
New option to disable certain genders from being spawned in wild areas + birth
[0.0.8c] Public Release
New monster: Taurien (Cow)
Pregnancy for Taurien lasts 1 day, Neko, Lycans and other monsters last 2 days.
New traits: Busty, Bite-Sized, Thicc, Slim, Milky
New NPC Art: Rose
Extend barn capacity to 10
Mountain now has Lycans and Tauriens
Heart Emoji when monsters can produce (fur, claws, breastmilk)
Changed to a new fur shader (still thinking about this one, feel free to leave comments)
Bug Fixes
Still appear pregnant after giving birth
Jittery hair
When creating a characters, there are certain colors for the eyes and skin that don't update on the model.
[0.0.7b] Public Release!
Trait inheritance + trait function + trait visual display (on monster's body)
New traits: Muscular, Lithe, Towering, Miniature
Breeding mechanic upgraded – offspring will now inherit appearance (skin tone, hair color, fur color, eye color) and traits from their parents
New monster: Wolf!
Bug Fixes
Update pregnancy rate after changing sex position dropdown (top/bottom)
You can crouch when in conversation
0.0.6c
Changelog
Character Customization Scene! Change your hair color, skin tone, and eye color!
Futa & Omega Protagonist gender selection (Full gay mode is possible now!)
New NPC Art: Margaret
New helper NPC: LoveOS. Temporary NPC who explains basic features of the game.
New feature: Mailbox. Right now the mailbox only contain recent patch notes but it'll have more function in the future.
More settings: Fullscreen/Window mode and an option to change display resolution.
More settings: Mouse sensitivity and inverted mouse options.
Further zoom out range of the player camera using the mouse middle scroll.
Bug Fixes
Some breeding gender combinations don't spawn a sex scene when they should
Some breeding gender combinations show 0% pregnancy rate when they should be 100%
Some breeding gender combinations don't have change sex position dropdown option when they should
Player can still sleep when the menu is open if they press E
Tools not showing up when chopping/mining in the mountain.
0.0.5c
Changelog
Upgraded Unity to latest LTS
Upgraded anime shader
Upgraded character/monster customization system
Male MC!!!
Female MC has big belly when she's pregnant
Cat fur is back!
A new logo for the game!
Bug Fixes
Unity bug when the game runs on second monitor instead of main monitor
Cat fur production bug is fixed. The fur should regrow in 3 days now.
0.0.4
Changelog
Player Level Up System
Player can level up by doing anything from resource gathering to breeding! After leveling up, player will earn 3SP that can be spent on the skill tree.
Player Skill Tree
First draft of player's skill tree. Currently we have skills to increase player's base status to keep Player competitive with other monster as a breeding partner. We'll add more skills that player can learn as time goes on
New Sex Scene Camera View
New Camera view during sex: bottom POV. Camera view from the one getting railed.
Breed With Player!
You can now choose to breed your monsters with Player!
Pregnant F!MC
Pregnant F!MC is currently not showing big belly – this is because next update we're going to make huge changes to our character system, to make it easier to add new monsters, modify body parts, add/remove clothes, and further customization.
Player Giving Birth
In testing version, the player will give birth immediately the next day~ The race of the offspring is decided by the monster partner's race.
Bug Fixes
If you click new game quickly the game spawn too many scenes – added a global button cooldown to fix the issue
Bug when the item in quickslot is removed from inventory
Bug when quickslot doesn't update when you gain more items
When you're standing near an interactable object and the notification shows up and it's time for auto sleep (3AM), the notification still shows up after sleeping
Inventory action set error when no action is available
Cat Fur has been removed because Cats will produce claws instead. Furs will be produced by wolves.
When putting food in the feeder, everytime you come back to the ranch you'll lose some items. (This was fixed)
0.0.3
Quality of Life Improvement
Sprint(Left Shift)/Crouch(Ctrl) works on toggle mode now. No need to press forever
Settings Menu
Render Quality – change this if the game is laggy
Time speed – speed up the game time to test our features!
Volume settings
Sexual Preferences Options – Probably the most requested settings
Consuming Food
Some items can be consumed for stamina recovery
Sleep
Go to your house to sleep or pass out at 3AM for automatic sleep!
Night Mode
Starting from 18pm, it will get dark outside
Right now the effect is still in early development – we'll improve night mode in future releases! I plan to implement full daily rotation system – morning, evening, sunset, and night. Right now we just need an indicator for night mode.
Aside from lighting change, if you don't fill the feeders in your barn, some monsters will be hungry the next day. Hungry monsters will delay their produce, extend their pregnancy, and can't breed (for the day).
BGM Change + Calibration
The music also changes at night! Try it out
Bug Fixes
Breed, Monster window display error: When choosing the same monster partner to breed, the monster doesn't display the 2nd time
Monsters that are breeding can't be released. Must wait till they finish.
Big notification for new unlocked location no longer have overlapping texts.
0.0.2
Added features
Breeding = training. Breeding increases your monsters' stats.
Big belly for pregnant cats
Shipping at 18:00 everyday
Can skip intro
Improve title screen
Excess monsters auto-release at 24:00 everyday
Frame rate limiter (60fps limit by default) to prevent overheating
GUI Updates
Big notification when unlocking new location. Known bug: for some reason, when building 0.0.2, the texts for new location move on top of each other. It wasn't like this when I tested it but it happened.
Small notification for pregnancy/birth/shipping
VFX Updates
Added many new SFXs and VFXs, especially for mining stones/chopping trees/notifications.
Bug Fixes
Shipping Crate/Storage open error when coming back from town
0.0.1
This is our 'proof of concept'. It will give you a small taste of the world we are still creating and building. Just keep in mind that everything you are seeing is still very early in development!
To use the monster feeder, please cycle through the quick slot and make sure that the appropriate item (meat or veggie chunk) is in the active slot.
To shear one of the monsters on the farm, put the shears in the active slot and press 'E' when near a monster.
Download Mating Season Porn Game