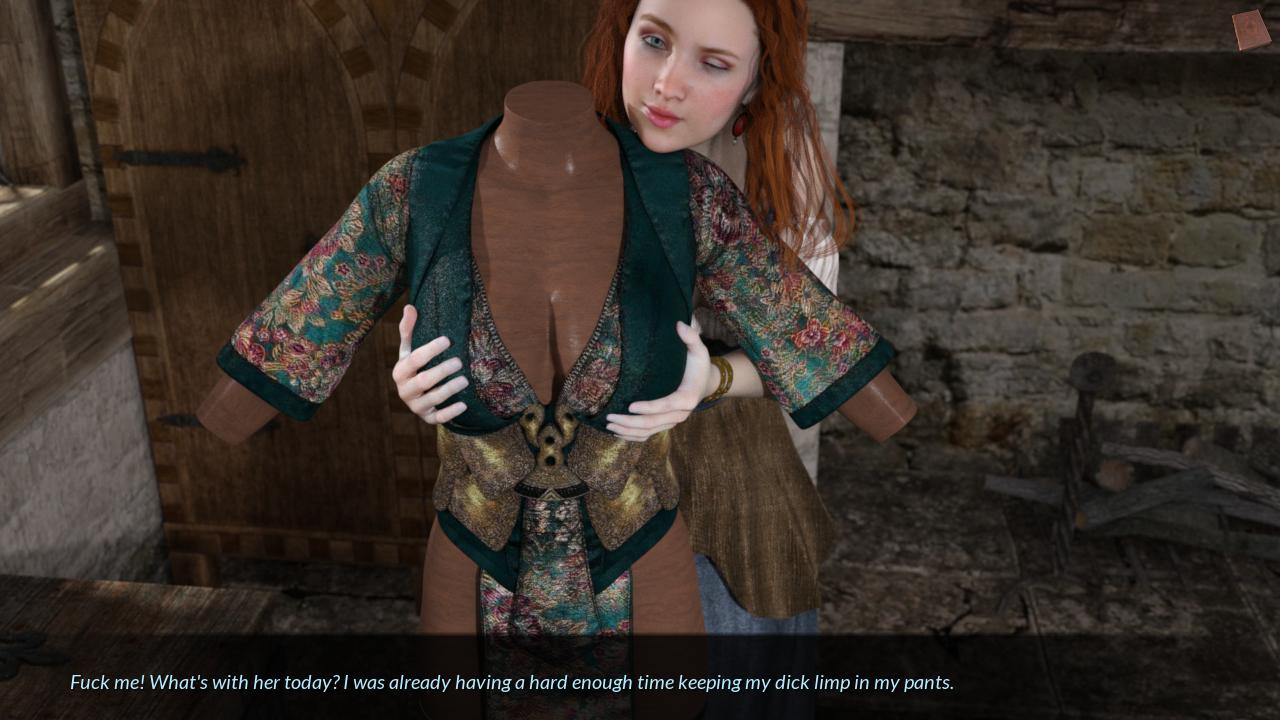 Long Live the Princess Adult Game Overview
The King is dead. His daughter, Princess Selena, is set to take the crown. But something is wrong. Murder, backstabbing, and visions of extinction threaten to bring ruin to all that is good. And at the heart of it all is a tale of personal tragedy and lost love.
You are a Truthsayer. Yours is the ability to tell if someone is lying. With your mentor dead, it is up to you to protect the Princess when she arrives in your hometown for her coronation. But a secretive old crone and her foul-mouthed pixie assistant have different plans for you.
With a newly learned ability to uncover secrets and use them to your own advantage, you are tasked with getting close to Princess Selena to save her from her darkness. But to achieve that, you must practice by getting close to the women in town. Real close.
And as you venture towards your destiny, someone is watching you closely…
Game Information
About
Thread Updated: 2019-12-05
Release Date: 2019-12-05
Developer: Belle Patreon – SubscribeStar
Censored: No
Version: 1.0.0
OS: Windows, Linux, Mac
Language: English
Genre: 3DCG, Fantasy, Male Protagonist, Mind Control, Incest, Threesome, Lesbian, Voyeur, Anal sex, NTR (avoidable), Cheating, Mind control, Oral sex, Teasing, Vaginal sex
v1.0.0
Invalidated existing saves from versions before 1.0.0.
Updates to most remaining (9+) outdated sex scenes, improving animation, frame rates, and lighting. A few scenes were left untouched because they looked decent enough despite their technical limitations. Complete list of updated scenes:
– The first threesome with Callie and Evelyn.
– Primrose missionary.
– Primrose on all fours.
– Samarra seated outside.
– Samarra on all fours.
– Nell's first HJ.
– Nell's repeatable HJ in tent.
– 69 with the Leanan Sídhe.
– All Thaddeus scenes.
At the end of the prologue, you will now be given a choice between playing with or without a time limit.
The Fairy Queen's vision and associated puzzle have both been redesigned.
Added an achievement system containing 62 achievements for you to find and collect. Can you get the elusive Electrum achievement?
Visual updates to a few non-animated scenes.
Updated a considerable amount of dialogue throughout the entire game. This includes fixes to consistency, clarity, and even rewrites where the text's original intent was not correctly represented.
Tutorial message boxes no longer refer to outdated game mechanics.
Donating 10 copper to the church no longer counts as 1 copper behind the scenes, which fixes a progression issue with Sister Agnes.
You could get locked out of obtaining Callie's panties legitimately. Eased up the requirements.
Belle now refers to the player by their actual name instead of nickname during replays. This is to prevent inconsistencies such as "virgin" when that would make no sense.
Seducing Lilith now requires a courage check in addition to the existing charisma check.
In NG+, if your Pathfinding is already at max and you have already cast Dispel Magic before starting your training with Erato, you can now skip training entirely. This only works under those exact conditions.
Primrose will now act less affectionate when paying you for your work if you have declined her romantic offer.
You can no longer send Evelyn to seduce Callie if you are already in a relationship with Callie. Cleaned up the way these relationships interact in general.
Fixed a few inconsistencies in the epilogue where choices and actions were not adequately reflected.
Town map: Fixed clipping issues with the hotspots, slightly increased hotspot size, and moved the marker for leaving town so that it won't interfere with the UI on Android.
During Primrose's investigation, there were reports that clones of Samarra and Nell were wandering around town. The clones have been taken out back and shot. Their attempt at hijacking the map icons has also been thwarted.
You can now talk to Thaddeus or train with him if Evelyn takes a break in the upper training grounds. Additionally, added some dialogue to help figure out when he is available.
Significant rebalancing of Primrose's relationship stats. The buildup of Primrose's love now begins at a much earlier stage, and the dialogue provides more explicit guidance on where to focus your attention. This makes seduction far more predictable and transparent than before.
Somewhat reduced the relationship requirements for Primrose in NG+ due to spending less time in the library in this mode.
Making incorrect guesses in the town hall puzzle will now give you a new hint after every guess instead of every third.
Added a few new lines of dialogue and a new pose to Sister Agnes's altar sex scene.
Primrose's father now also drinks on Tuesdays.
Reduced the Courage requirement for visiting the Fairy Queen for the first time from 3 to 2.
Added a new Courage check to revisit the Fairy Queen after your first encounter.
More consistent feedback when passing ability tests outside of night scenes.
Adjustments to music triggers, mainly to reduce the number of quiet sections in the game.
Added names to secrets that previously had none.
Increased the Perversity requirement for buttsex with Erato from 2 to 3.
Reduced the cost of paying for the customer's clothes in Callie's store from 20 to 15 copper.
Repeatable sex scenes with Primrose no longer take up an action.
Thaddeus and Evelyn will not fool around until the game's second week.
You can no longer send Nell to the Fairy Queen without first solving her dark secret.
Samarra's tent sex scene is now repeatable.
Added the Thaddeus scenes to Evelyn's gallery.
Belle now has several more nicknames she can give you. You are unlikely to see them all in one game.
Significantly increased the number of clues that can be presented to Thaddeus at the town hall.
Expanded the "harem ending" slightly.
Moved a misplaced dialogue section when asking Callie for sex before buttering her up.
Added a secret way to get Evelyn pregnant without having to be in a relationship with her and without her leaving town. This option is hidden until the exact requirements appear and disappears once it is no longer relevant.
Reduced the height of the abilities screen to match the actual number of abilities in the game.
You can no longer train or have sex with Erato immediately after a climax.
The river is no longer available as a location during the prologue in NG+.
Belle will no longer encourage you to do Courage training in NG+ when you are already fully trained.
Prevented the Perversity unlock event with the Leanan Sídhe from happening in NG+ if you had already unlocked it.
Sister Agnes is no longer available in the church while she is visiting Callie's store.
Removed the Sound slider from the preferences since it is not used.
Changelog 0.42.0:
NG+: Added two new replayable sex scenes with Sister Agnes.
NG+: Expanded Agnes's donation scene.
NG+: Fully implemented Remove Inhibitions for Sister Agnes.
NG+: Added an epilogue for Sister Agnes.
Improved visuals and animations in Evelyn's first romance path sex scene.
Updated a few lines of dialogue in Nell's tower sex scene that referred to old content, and fixed the perspective button.
Various tweaks and fixes.
Changelog 0.41.0:
Implemented Sister Agnes's dark secret. (NG+ only)
Added a gallery for replaying Sister Agnes's sex scenes.
Added several new scenes for Sister Agnes, three of which are spicy enough to be included in the gallery. (NG+ only)
Improved the quality of almost all the existing images featuring Sister Agnes.
The church and how you can interact with it now changes between NG and NG+.
Added 10 new pieces of music, covering events from the prologue until the epilogue.
Interpolated the main menu animation to make it smoother.
Various tweaks and fixes.
v0.40.0 Public
Vastly improved all images and animations in Nell's tower scene, and updated some dialogue to match.
Expanded and completed the Advanced Training scene with Nell.
Various tweaks and fixes.
Changelog 0.39.1:
Fixed a crash bug when entering the Fairy Queen's sex training menu at its last stage if you have less than 5 Perversity.
A few minor tweaks elsewhere.
Changelog 0.39.0:
Added three new sex scenes for the Fairy Queen.
Added new requirements that must be fulfilled for the Fairy Queen to accept your final proposal to her in the endgame. Old saves beyond the point of no return in the FQ's story automatically fulfill these requirements.
Changed how events resolve if Primrose ends up in prison. If this happens, you can no longer get into a sexual relationship with her. However, Primrose having been in prison will no longer soft-lock you out of getting a good ending in the endgame.
You can now see the location of characters on the town map (but not on the wilderness map).
Fixed an assortment of annoying bugs and issues with the map screens.
Various tweaks and fixes.
v0.38.0
The night scenes for all the girls who have them (Evelyn, Primrose, Callie, Samarra, and Nell) are now fully implemented.
Updated all four existing night scenes to keep them in line with the rest of the game. Every image has been re-rendered, and every animation has been expanded and improved.
Added the Deep Sleep spell.
Implemented Perversity 6, which works differently from all other ability scores.
Removed Courage levels 5 and 6 from the game. They were no longer needed. This means all abilities are now fully implemented.
Expanded several epilogues to take the new possibilities from this update into account.
Completely revamped lighting in the Samarra/Nell night scene. Additionally, Nell's skin texture was fixed in this scene.
Removed the ability to leave behind evidence at night. This early feature no longer fit the game's theme and would have been very demanding to implement.
Various tweaks and fixes.
v0.37.0
Added a new quest to obtain and learn the Shrink spell.
Added a new sex scene with Belle.
Expanded the epilogue with more options and images for Belle.
You should now be able to admit your feelings to Evelyn even if you solve her secrets out of order.
Various tweaks and fixes.
v0.36.0
– Added three new scenes with Callie featuring two new, mutually exclusive relationship branches to explore.
– Expanded the epilogue with more outcomes for players who pursue Callie's new scenes.
– Callie is now romanceable and is another potential source of charisma.
– Updated dialogues to reflect changes to your relationship with Callie.
– Moved Evelyn's charisma gain. It is no longer necessary to enter a relationship with her to gain charisma.
– Various tweaks and fixes.
v0.35.1
Fixes situations where it might be impossible to visit the river location or the Leanan Sídhe in NG+.
Removes error message when training agility in NG+.
In NG+, hides books you have already read on your previous playthrough.
Various tweaks and fixes.
v0.35.0
New Game Plus is now available. Unlock it by reaching one of the game's many endings. NG+ will be expanded in later updates.
The optional ability checks in the tutorial are now fully implemented.
Completely rebuilt the masturbation scene in the tutorial to make it at least somewhat appealing. This scene changes in NG+.
Complete overhaul of several sex scenes with new poses and improved visuals and animation. These scenes are:
– Evelyn's goodbye
– Belle wakes you up
– Belle while watching the mystery woman
– Samarra's first training session
– Callie's nude fashion show
– Erato's pathfinding training.
Minor visual and animation upgrades in Evelyn's boobjob scene and the Fairy Queen's BJ training. Minor visual update to Primrose's boobjob scene.
Various other visual improvements.
Added a spellbook that shows learned spells and your remaining daily attempts at Invade Mind.
Added a to-do list that will help remind you of things you might want to do.
It is now possible to obtain a point of Charisma from Samarra even if you choose not to claim your just rewards after defeating her.
Most of the UI is now hidden during sex scenes. Please report any bugs you find that are caused by this change.
Fixed a bug that made one of Callie's potential epilogues not appear. This fix might not work if you are already in the endgame.
Added progressive hints to the town hall puzzle. These hints appear after comparing the wrong facts too many times.
The Fairy Queen's vision quest now allows you to ask Belle for hints as many times as you like. This is a temporary fix until I can rework the quest.
The first night scene with Evelyn is now optional.
Removed silver and gold pieces from the game. They still exist in the game world, but not as a game mechanic.
Remade and repositioned the button for toggling camera perspectives. It should now be easier to spot.
Updated to the latest version of Ren'py (7.4.4). You should not notice any differences. However, Windows XP is no longer supported and LLtP is now 64-bit. There is still a 32-bit executable included.
Various tweaks and fixes.
Changelog 0.34.0 – Endgame Part 4 – Epilogue:
The epilogue has been fully implemented, concluding the game's main storyline.
One new sex scene.
Added a new musical track.
Limited the number of saved game pages shown at pages above 99 to prevent layout problems.
Various tweaks and fixes.
v0.32.0p
Added a hotfix for those having trouble triggering one of the new sex scenes.
Re-uploaded with a different Evelyn story to comply with Patreon rules.
v0.32.0 – Endgame Part 2:
The endgame continues:
Added the events of the day of the coronation.
Two new sex scenes.Added a new musical track.
Major animation and visual improvements to Primrose's BJ scene.
Improved the main menu screen once again.
Various tweaks and fixes.
v0.31.0 Endgame Part 1
The endgame begins: Added the events of the entire day before the coronation.
[*]Two new sex scenes.
[*]Official Android support with an improved interface and language for touch screens.
[*]Significant animation improvements to multiple older scenes.
[*]Added penis wetness to both new and existing scenes.
[*]Improved Callie's dialogue scenes with new renders and more expressions.
[*]Standardized the capitalization of titles and professions throughout the game.
[*]Various tweaks and fixes.
v0.30.0
You can now cast Probe Memory on a certain princess.
[*]Rebuilt the sex scene with Callie's customer to feature a new costume, lighting, and massively improved animation.
[*]Removed the Multiple Girls page from the scene gallery and moved its scenes to the respective girls' pages.
[*]Various tweaks and fixes.
v0.29.0
Implemented the Crone's secret. This is a big one, folks.
You can now learn the Probe Memories spell, though there is no content for it yet.
Removed all traces of Princess Placeholder. Among other things, this means we get a new main menu background.
Added a brand new intro upon starting a new game.
Rewrote parts of Evelyn's and Primrose's introduction in the tutorial to match the rest of the game's tone better.
Created new images for both of those sections to lift the graphical quality and fix a few annoying issues.
Added a music player to the gallery. Music tracks unlock as you discover them in the game.
Added a new musical track.
Updated multiple old scenes to support the new events in this update.
Added more character pages to the scene replay gallery. They are empty, for now.
Hopefully fixed the bug with Callie refusing to have sex for no reason. Existing saves should be repaired automatically.
You can now obtain a fingerbone even after Nell is gone.
Belle now points you in the right direction if you fail the vision quest puzzle while missing a vital clue.
Fixed visual bugs in the river scene.
Various tweaks and fixes.
v0.28.0
You can now return to see the Leanan Sídhe one final time.
Added a new scene with Belle.
It is now possible to obtain Perversity 5 without doing the night scenes.
If you threatened Nell, she will now cool down after a week. Note that you must ask for sex again for this countdown to begin.
If you keep giving Callie unwanted creampies, she will now eventually refuse to have sex with you.
The toggle perspective button no longer skips to the next line of dialogue (thanks to Morbil).
Belle will now give you a hint if you watch several of Callie's fashion shows without searching for clues.
If it is impossible to solve Primrose's dark secret in your save, you will now be informed of this when trying.
Made the hints Belle gives you on how to train Perversity show up earlier. Also clarified the dialogue to reduce confusion.
Various tweaks and fixes.
v0.27
Implemented Primrose's dark secret.
Expanded Primrose's existing sex scenes.
Added a new scene with Nell.
Added a SubscribeStar link to the main menu.
Various tweaks and fixes.
v0.26
Implemented Nell's dark secret.
You may now try to convince Nell to come with you.
Added and modified scenes to handle the fallout from this update's events.
Tweaked how Nell's Remove Inhibitions works for future updates.
Various tweaks and fixes.
v0.25
You may now attempt to interpret the Fairy Queen's visions.
Charisma training now goes up to level 6.
Added a new scene with Samarra.
Added a new sex training scene with the Fairy Queen.
Samarra will now tell you her whole story if you are worthy of it.
Improved animation, lighting, and pubic hair color in Samarra's first sex scene.
It is now possible to search Samarra's tent.
Added a new musical track: Samarra's Theme.
Various tweaks and fixes
Installation: Extract the archive inside the LongLiveThePrincess-0.xx.x-pc/game folder and delete scripts.rpa
Compatible with game version 0.37.0
Features: 1)Pregnancy ending(for all girls that have it implemented)
2)Girls included:
Evelyn
Primrose
Callie
Belle
Samarra
Nell
Lilith
Selena
Erato
The Leanan Sídhe
3)Love path ending only(so no girlfriend or fwb stuff)
4)Callie, Evelyn and MC are in a three-way relationship, as are the MC, Lilith and Selena
5)I have rewritten some epilogue and story dialogue to make this ending make some sense. I'm a terrible story writer, and even worse at writing dialogue in a fantasy world, so feel free to improve it or make suggestions on what would sound better.
6)Harem ending only, irrespective of gameplay choices
Download Long Live the Princess Porn Game