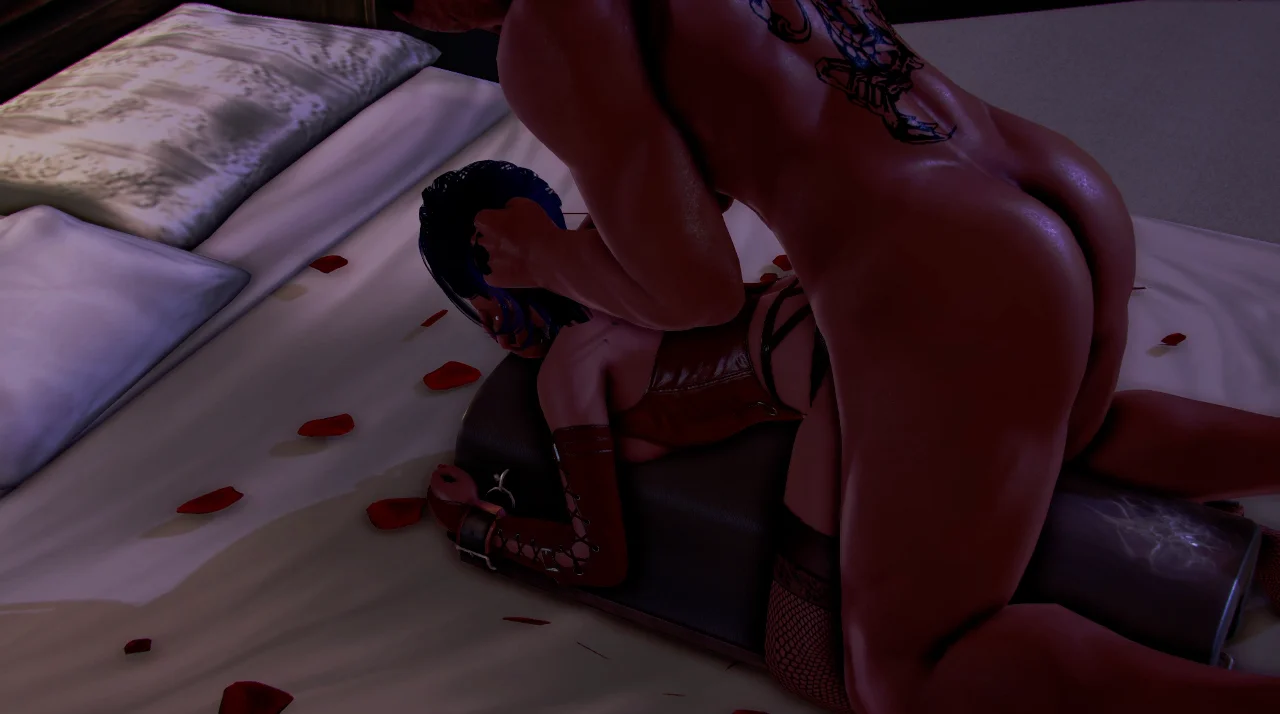 iNSight of you Adult Game Download Overview
A Trainer-like, mostly animated game with its main focus on submission, humiliation, and female orgasm control/denial. Also includes outdated memes and a love story.
The main story follows the life of Sam. He's a simple guy within the mafia circle, who gained access to highly experimental tech. Most functions are unknown, and he, with some help from lively redhead Esther, will try to figure them out. How? Using it on his bitchy boss and girls around him!
Game Information
About
Release Date: 2023-04-18
Developer: AdventAnyx Patreon – Twitter – Subscribestar
Censored: No
Version: 1.0
OS: Windows, Linux, Mac
Language: English
Genre: Corruption, Humiliation, Female Orgasm control (denial), Blackmail, Anal Sex, Public use (sharing, whore-training) 3DCG, Male protagonist, Male domination, Animated, Sex toys, BDSM, Ahegao, Romance, Creampie, Trainer, Lesbian, Threesome, Group-sex, Management, Watersport (optional) Big ass, Big tits, Masturbation, Oral sex, Vaginal sex, Teasing, Handjob, Titfuck, Urination, Virgin, Voyeurism, Female domination (1 scene), Footjob
v1.0
total animations 2313 (+55), pictures not counted; content-wise, very small patch, plus fractured into several paths;
the game is now COMPLETE (more info below), the story has its ending and afterword;
Gloria has 3 endings; Maya has 2.5 (one is neutral, when you didn't go far with either);
one missing (placeholder) achievement added (tied to the club quest progress);
all achievements now also have vague tooltips about getting them;
credits scene featuring people who helped me, patrons, software and music;
updated some tooltips and extra texts: Gloria x Maya chain now has more clear progress tips;
if Gloria was working on the papers when bankruptcy started, you'd get a Big Star eventually, instead of UI being stuck;
added additional condition to the bankruptcy to avoid players being stuck with slutty Maya's path afterwards;
cleaned the game a bit by removing various "to be added later" promises, some may remain, report to me please;
fixed Esther's phone button appearing too soon for Maya x Melissa chain in harem route;
updated cheat code: it will allow players to choose any combination of endings without replaying the whole game, and unlock all achievements;
something else
v0.12a
-fixed incorrect camera animations for Walters activity (phase3 and gallery);
-fixed incorrect / empty "star"-status of the final club event;
-fixed missing / uninformative journal tooltip texts for some events;
(so, basically just integrated previous "scripts.rpa" fix and repacked v0.12)
v0.11 – > v0.12:
The final (and optional) stage of Gloria's corruption!
Animations: +196, now at 2260 total, pictures – not counted;
New everything for the new Gloria: from her new looks, to dialog pictures, to different status-screens, to diary shots, etc.
The perfect gameplay loop – just enjoy the show, no grinding for this phase
Most of her favorite activities now have the finale episode;
Her "Snapchatty" gallery too;
Minus the endings, the game is now complete;
This time, with all the new stuff already in the gallery and spell-checked, at release;
Gallery now also has all of her camera animations, in full 1920*1080 resolution;
Have a good time
Now when Sam already has 100 points (capped), most actions (and passives) will add Esther's points instead, at a ~66% rate;
Slutty Maya will start rolling for events when over 70 Horniness, instead of 50 to avoid event-clogging issues;
Added big text tooltip to use Esther's phone in Maya's slut-route. The phone generates much more Sluttiness-per-view compared to passive waiting, but players missed that;
Updated a few Journal tooltips to include more required triggers to avoid confusion;
Fixed the latest Patreon password bug, being inconsistent on game-reload;
something else
v0.11
~50 animations and ~30 pictures were added in total (as I said, very small patch);
some of people's suggestions from previous posts implemented – mostly to cover Gloria's viewpoint, what she does in her free time;
almost all content is placed inside repeatable mini-events, you can turn them off 1-by-1 after seeing them a couple of times, reset them at the Laptop;
Gloria now takes a few "Snapchatty" pictures of herself during all of her corruption phases, added a separate button to the Laptop to review them (might take a few day-offs on an old save to unlock them first);
This build already has an updated gallery with all the new stuff (except selfies, on an old save – play for a few weeks);
Slightly simplified phase 1 (less Hate);
Esther now loses a lot less IQ during orgasms (5->3); also doesn't cost as many E-points to send E+M to work at the club as bunnies;
Fixed a lot of missing text-tags, missing portraits in some dialogues, etc.
Removed some debugging info here and there, cleaned interface a bit, Renpy v8 ready (no more 32bit systems, faster performance);
Removed animated portraits from that one event where I experimented with them;
other un-interesting bullcrap fixes;
something else;
v0.10a
expanded gallery, added all new events, and fixed unnecessary "cheating protection";
added alt dialogue for end-game slut Maya talk about interrogation, fixed for "!" users;
fixed game-breaking Sanity calculation after the last table event, when Gloria started having dozens of orgasms per day;
added small additional tooltips here and there;
added and fixed: not being able to drop Gloria's Sanity in the end-game (use Alvarez or visit the strip club and forbid orgasms there);
some additional bugs related to "!" use were fixed, extra alerts added;
small stats adjustment here and there;
made 1 unattainable achievement attainable, and removed the empty one for now;
something else;
v0.10
Patch notes
Not the biggest patch in history, but a big milestone: E+M content finished, Gloria's corruption phase finished!
Total animations: from ~1880 to ~2020 (pictures not counted)
New medium-sized event for Maya's butt in harem route + several background animations
New big-sized event for Maya in slut route (at the club) + her solo work there
Two new activities for Gloria: Walters (big boss) and Office Assistant, with multiple stages of events and cameras
New mini-event for the front-desk + increased fluid and exercise limits after certain points in the story ( ͡° ͜ʖ ͡°)
Reworked how Resistance works in the secretary phase, more info below
Various events bonus stats revamped to avoid piling up the events (not ideal, need feedback)
Added additional "lemonade" counter (in liters) if you keep a certain buff On
Removed confusing uncle Jason's extra girl-points (still there, just lowered the numbers and removed description)
New Reputation level for Gloria
Mindbreak game-over now has animation and description
The transition-to-the-final-stage event features new Gloria's outfit and looks (′ʘ⌄ʘ‵)
All existing achievements now have reachable triggers. They will be updated/remodeled/removed in the finishing update. Enjoy!
End-of-Day report now shows the number of orgasms that Gloria had (if over 1)
Cleaned some placeholders and moved things around a little bit
Fixed reported and new-found bugs
Something else
v0.9b
new content's text edited and grammar-fixed (thanks, bwa!)
fixed issue with being stuck at Maya x Melissa 2 in some cases
fixed horny harem-route Esther not paying attention to being "blocked" in her gameplay
fixed uncle Jason taking advantage of Gloria before she even starts working at the club
added over 70 (to be expanded later) gameplay tooltips, available in Esther's part of the game
fixed "!" sign to give the correct harem progress if a player picked the "start of harem route" option
something else
v0.9a:
a whole new gallery, created and coded (properly, unlike my amateur coding) by Skataaaaa
you can check the laptop; it will track every playthrough you have, and keep things unlocked even in a new game!
some scenes simply repeat what you saw in the game, but some have their separate control (like locking-unlocking orgasms inside the gallery view) and update as you gain more stats for Gloria (nothing new in terms of scenes, this just reshuffles already existing ones)
basically, once you played all the routes and opened every sub-quest, there's now a whole new way to experience old scenes without replaying the game!
fixed a minor bug with triggering the Maya x Melissa event
v0.9:
Esther and Maya patch
Total animations count from ~1640 to ~ 1880 (pictures not counted)
Esther's gameplay done – play as a (slightly) horny scientist and see what struggles she faces, lol
Maya's routes (almost) finished, minor missing scenes will be added in the next update
Harem route's screen moved to Esther's gameplay, Slut route has its own little progress screen
Melissa x Maya ( ^∇^)
Both Esther and Maya lost their butthole virginities
Harem route now has exclusively Esther x Maya content (in Esther's part of the game)
Slut route Maya kinda went all-in with her looks in the end-game: piercing, tattoos, tan, bigger boobies, and totally shameless attitude
Memes
Various bugs of different significance fixed
Something else
v0.8(+a)
0.8:
Total animations count from ~1470 to ~1640, pictures not counted
New girl (or I should say – woman, a massive slut from get-go)
New place with interactions for each girl (Strip Club)
Progression for Gloria at the strip club
New ways to help with her resistance (from uncle Jason)
Updated and added 1 level of reputation and lewdness
New buff for Gloria
Maya x Gloria at the office (with camera events)
lowered the stat gain from random events at the "secretary phase", to not clog all the 1-time-events in 1-3 days (bigger re-work incoming once the whole phase is complete)
older saves should be compatible, I tried my best
removed some placeholders and fixed some bugs
0.8a:
added a shortened version of the kinetic novel part (~200 vs ~3200 lines)
reworked the 1st phase of interactions with Gloria: random events now trigger automatically, PC actions no longer need to be text-skipped to give stats, updated some animations (~15) with newly acquired knowledge of lighting and stuff, lowered the number of points needed to invent the first buffs, upped the number of points Esther gets in her gameplay, etc. -> all-in-all that part should become much easier and less grindy.
fixed bugs with 2 missing club camera animations
spelling errors (v0.8 part) checked and fixed by an awesome user "bwa" (F95)
used the latest Renpy version. Hopefully no more false positives on "virus-total", with fewer lags and all that
new "18+ warning" animation
fixed the bug with Esther's points cheat buttons
something else
v0.7b (unstable?):
fixed a minor error with major consequences – the early game was way grindier than it should be (removed the extra everyday Hate gain)
used the latest (in-development) version of Renpy – this should improve the performance and fix crashes, hopefully with no extra bugs
v0.7a (quick-fix) (stable):
fixed bugs with 3 missing scenes
applied grammar fixes send by awesome people (Brian and bwa – you are both mvps) – the game should have like 95% of its texts reviewed by someone competent by now
one anim and one picture reworked (nothing major)
v0.7:
animations count from ~1360 – ~1470
level 3 masochism buff finally in place
new NPC (Gloria's butt will suffer) (+camera)
a new place for her to spend the evening (+camera)
added a few smaller events for her office progress with male colleagues
new "call her to the office" animations for Gloria depending on various factors
various fixes to wrong stat calculations (the worst was the stacking butt-plug penalty)
watersport (pee-drinking) content (turn off the dedicated buff to never see any)
attempted optimization (reduced the "go back" to 50 steps to ease quicksaving) – read below for other tips
v0.6b:
new animations for the weekend event chain (for the latest phase)
you can turn Gloria's buff on-off without going into the menu (just click the icon)
updated the Journal icon to be animated and more visible
fixed several found bugs
applied the first portion of grammar-fixes
something else
v0.6 (+a):
Animations count from ~1180 to ~1350
all-new animations are at higher quality and 60 fps
the first version of the Achievement system
a new phase of Gloria's corruption: new office, new actions, new mechanics, new camera-events
more control over her chip's rules, and many new rules for her to become sluttier
new buffs for Gloria
new levels of Lewdness, Reputation, Desire screens
now you can "finish" the game (placeholder with no Finale, don't rush it)
something else
the first version of the "Journal", you (hopefully) won't need the $10 Guide anymore if you are stuck
fixed a few bugs from 0.6
v0.5c:
Esther can (25-100%) fuck up her cooking quest now, and you can spank her for that (a little set of 6 animations) (。◝‿◜。)
Fixed a bug with dialogue at NUAMA that gives points too soon
Fixed the wrong number of Maya progress
Fixed the chance of girls to wake Sam up when they are too horny
You can now check how much content you've finished at "Laptop – > Cheats -> I think I've finished this Chapter" (work in progress)
"Groria"->"Gloria" and other fixes
Something else
v0.5 (+a,+b):
Animations count from ~810 to ~1180
Maya's harem route now has its own game-play: with stats, progression, and a lot of new animations
Big BDSM event with Gloria
Girls now have several outfits in the harem route, once you unlock them: normal, kinky, slutty
You can now let girls work at the Club as waitresses, some events for Maya's slut path there too
Maya's slut route a little bit extended
Added quick-button to Deal with Gloria
Added passive Esther's working points generation
Fixed some calculations
Something else
v0.4d:
-fixed office-camera not closing after a new day starts
-fixed being unable to progress when Gloria has exactly 200 Lewdness
-fixed morning-bj not providing cum (dick recharged!)
-fixed typo in the Maya's Info button (about slut route 4/3 -> 4/4)
-added a hint that you need a cum-loving buff, not masochism (when you talk to Esther at Gloria's plot 16 or 17)
-something else
v0.4 (a,b,c)
Total animations from ~670 to ~810
New features, based on progressing through event-chains
Reduced the grind in Esther's gameplay
A way to have a passive working-points gain
Updated Reputation screen
A way to stop her natural Resistance growth
A shit-ton of calculations changes
Re-done previous "Deal with Gloria" for 20 points thing to be partly over-time and not-random
Re-done Resistance growth to be partly over-time
buttplug hate: from 20% static random to 0-30% over-time
something else
v0.3a
fixed a few lines of dialogues,
adjusted numbers to make 2nd phase a bit harder
v0.3
Total animations: from ~480 to ~670 (basically, the game is 95% animated)
You can now spend your day as Esther in the university setting
First events for split Maya's routes (Slut and Harem)
New mechanics for Gloria past Chapter2 events
Game-Over scenarios
New events with Gloria
New buffs for Gloria
Re-done previous calculations of stats after events, to be more random
New interface for dialogues
Something else
v0.2
total animations count from ~160 to ~480
Game-play, trainer-style
More plot
Plus one girl (Maya)
More outdated memes and cringe jokes
With v0.2 update, you are now able to finally play the game! (the shameful VN tag is gone!)
v0.1
Initial Release
Download iNSight of you Porn Game
HQ
LQ
Keywords: Completed Porn Games, Renpy Adult Sex Game, Animated BDSM, Best Lewd Trainer Games, Free Erotic Game Download, Harem Simulator